Thank heaven for gorgeous ladies! We've gathered 10 of the most beautiful female celebrities, the sort of celebrities who brighten any day. These are top 10 most beautiful female celebrities in the world. Have a look. Enjoy!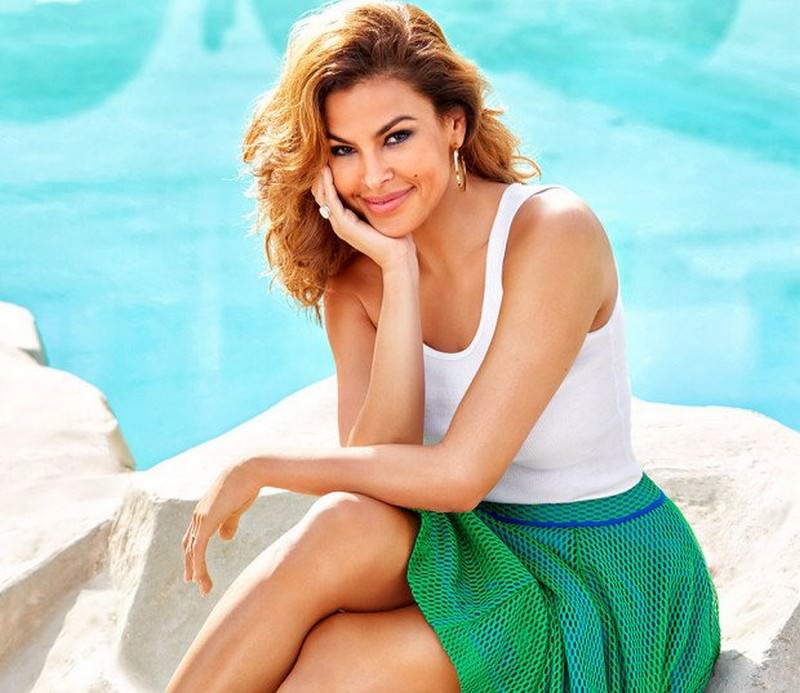 All Time's 10 Most Beautiful Female Celebrities
10. Salma Hayek
Born: 2 September 1966
Place of Birth: Coatzacoalcos, Mexico
Height: 1.57 m
Full name: Salma Hayek Jiménez
Spouse: François-Henri Pinault (m. 2009)
The Mexican and American film actress; Salma Hayek is one of the most beautiful female celebrities in the world. She has done plenty of roles on screens both big and small. She's not only gorgeous, but she's funny as hell. In addition, she's an anti-domestic violence advocate. She has participated in many charitable work includes increasing awareness on violence against women and discrimination against immigrants.
9. Eva Mendes
Born: 5 March 1974
Place of Birth: Miami, Florida, United States
Height: 1.68 m
Partner: Ryan Gosling (2011–)
Children: Esmeralda Amada Gosling, Amada Lee Gosling
Siblings: Carlo Mendez, Janet Mendes, Carlos Mendez
Eva Mendes, a gorgeous woman who refuses to fix what others may see as flaws;
I have the hugest overbite. It's so big, my older brothers and sisters used to call me "Bugs." I looked like a bottle opener. But I've never fixed my bite because it's one of the things that makes me me…My best feature is my big hips. I've got some nice childbearing hips, and I feel very proud of them. When I was younger I thought they were too big. I wanted to be slimmer. But now I totally embrace them.
8. Scarlett Johansson
Born: 22 November 1984
Place of Birth: Manhattan, New York City, New York, United States
Height: 1.6 m
Spouse: Romain Dauriac (m. 2014), Ryan Reynolds (m. 2008–2011)
Considered as Hollywood's modern sex symbol, Scarlett Johansson is at No.8 amongst most beautiful female celebrities. She has frequently appeared in published lists of the world's sexiest women. As of 2017, she is the highest-grossing actress of all time, with her films making over $3.6 billion. She's a star who doesn't starve herself, doesn't advertise her personal business, and stays out of the tabloids. In addition, she's about to kick Iron Man's butt as the Black Widow!
See also; Most Beautiful Women of 2018.
7. Shakira
Born: 2 February 1977
Place of Birth: Barranquilla, Colombia
Height: 1.57 m
Partner: Gerard Piqué (2010–)
Children: Milan Piqué Mebarak, Sasha Piqué Mebarak
The Colombian singer, songwriter, dancer; Shakira is one of the most beautiful female celebrities. She has won many awards, including five MTV Video Music Awards, two Grammy Awards, eight Latin Grammy Awards, seven Billboard Music Awards, 28 Billboard Latin Music Awards and has been Golden Globe-nominated. In addition, she carries out well-known philanthropic activities through charity work. Also, she was named one of the most powerful women in the world by Forbes.
6. Beyoncé
Born: 4 September 1981
Place of Birth: Houston, Texas, United States
Spouse: Jay Z (m. 2008)
Children: Blue Ivy Carter, Rumi Carter, Sir Carter
Parents: Tina Knowles, Mathew Knowles
Beyonce, the tenth amongst most beautiful female celebrities. You know her from; Music, movies and awards shows…. where haven't you seen her? She's wife of rap star Jay-Z, and a new mom of her daughter Blue Ivy. She was also named People's 2012 World's Most Beautiful Woman. In addition, she became the highest-paid black musician in history. Time magazine named her amongst 100 most influential people in the world. Also, Forbes magazine named her the most powerful female in entertainment as of 2018.
5. Adriana Lima
Born: 12 June 1981
Place of Birth: Salvador, Bahia, Brazil
Height: 1.78 m
Spouse: Marko Jarić (m. 2009–2016)
Children: Valentina Lima Jarić, Sienna Lima Jarić
She's one of the hottest and most valuable Victoria's Secret angels. The Supermodel of the world from Brazil; Lima is at No. 5 amongst most beautiful female celebrities in the world. Since 2014, Lima has been the world's top-earning model.
See also; World's Top most beautiful young ladies.
4. Jessica Alba
Born: 28 April 1981
Place of Birth: Pomona, California, United States
Height: 1.69 m
Net worth: $340 million (May 2016)
Spouse: Cash Warren (m. 2008)
American actress and businesswoman; Jessica Alba named one of the most beautiful female celebrities. She has started her acting career at the age of 13. Since then, she has won several awards for acting. Ever since "Dark Angel," she's known how to kick ass and take names. In addition, she's committed to her charity work, even offering to work for free if producer Bob Weinstein would make a hefty donation to Amfar.
3. Angelina Jolie
Born: 4 June 1975
Place of Birth: Los Angeles, California, United States
Children: Shiloh Nouvel Jolie-Pitt, Maddox Chivan Jolie-Pitt, MORE
Spouse: Brad Pitt (m. 2014), Billy Bob Thornton (m. 2000–2003), Jonny Lee Miller (m. 1996–1999)
Parents: Jon Voight, Marcheline Bertrand
You either laugh, cheer her on or both while watching her as Mrs. Smith on "Mr.and Mrs. Smith". Angelina Jolie is not only most beautiful woman, but also an outstanding actress. She ruled Hollywood for many years. In addition, she's one of the highest paid actresses in the world. As much as she loves kids, we should love her for that alone. She's a business woman and philanthropist all her own. In addition to her film career, Jolie is noted for her humanitarian efforts. Outside of acting, her charity work includes UNICEF, ONE Campaign and UNHCR.
https://www.instagram.com/p/BjfiQH-hsJf/?taken-by=angelinajolieofficial
2. Charlize Theron
Born: 7 August 1975
Place of Birth: Benoni, Gauteng, South Africa
Height: 1.77 m
Children: Jackson Theron, August Theron
An Academy-Award-winning actress; Charlize Theron is at No. 2 in our list of most beautiful female celebrities. Her Oscar-winning performance in "Monster" was called "one of the greatest performances in the history of the cinema" by critic Roger Ebert. In addition, she's passionately committed to helping the people of her native South Africa — her foundation provides health services for some of the poorest regions of the country.
1. Megan Fox
Born: 16 May 1986
Place of Birth: Oak Ridge, Tennessee, United States
Height: 1.63 m
Spouse: Brian Austin Green (m. 2010)
Megan Fox is the go-to geek-bait hot babe, and has appeared on countless magazine covers like; Maxim, Rolling Stone and FHM. Also, she's considered as modern female sex symbol of the highest order. She's a woman whose hotness has become emblematic of a specific era. The beauty and hotness icon of the 21st century. She has been featured frequently on "hottest", sexiest and "most beautiful woman" lists.
See also; Hottest Photos of Megan Fox.