Madhuri Dixit, the eternal Bollywood queen and evergreen actress, continues to mesmerize us with her timeless beauty. Recently, she graced the Global Excellence Awards ceremony, captivating everyone with her enchanting presence and stunning attire. Madhuri chose to don a gorgeous charcoal grey saree, and it is safe to say that she left us spellbound.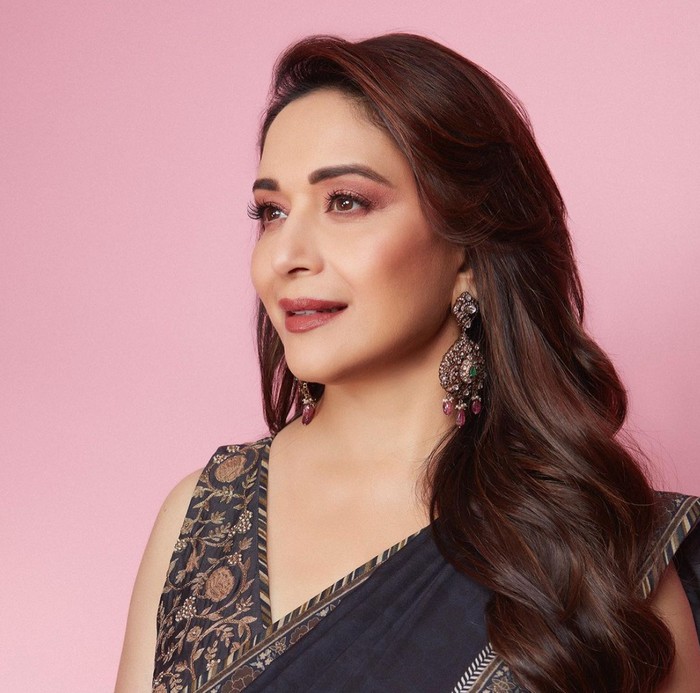 See also: Rare Unseen Pictures of Madhuri Dixit
With a soft and subtle makeover, Madhuri effortlessly enhanced her flawless beauty. Her glossy wavy hair cascaded elegantly, parted on the side, adding a touch of allure to her overall look. However, it was her choice of styling that truly stole the show.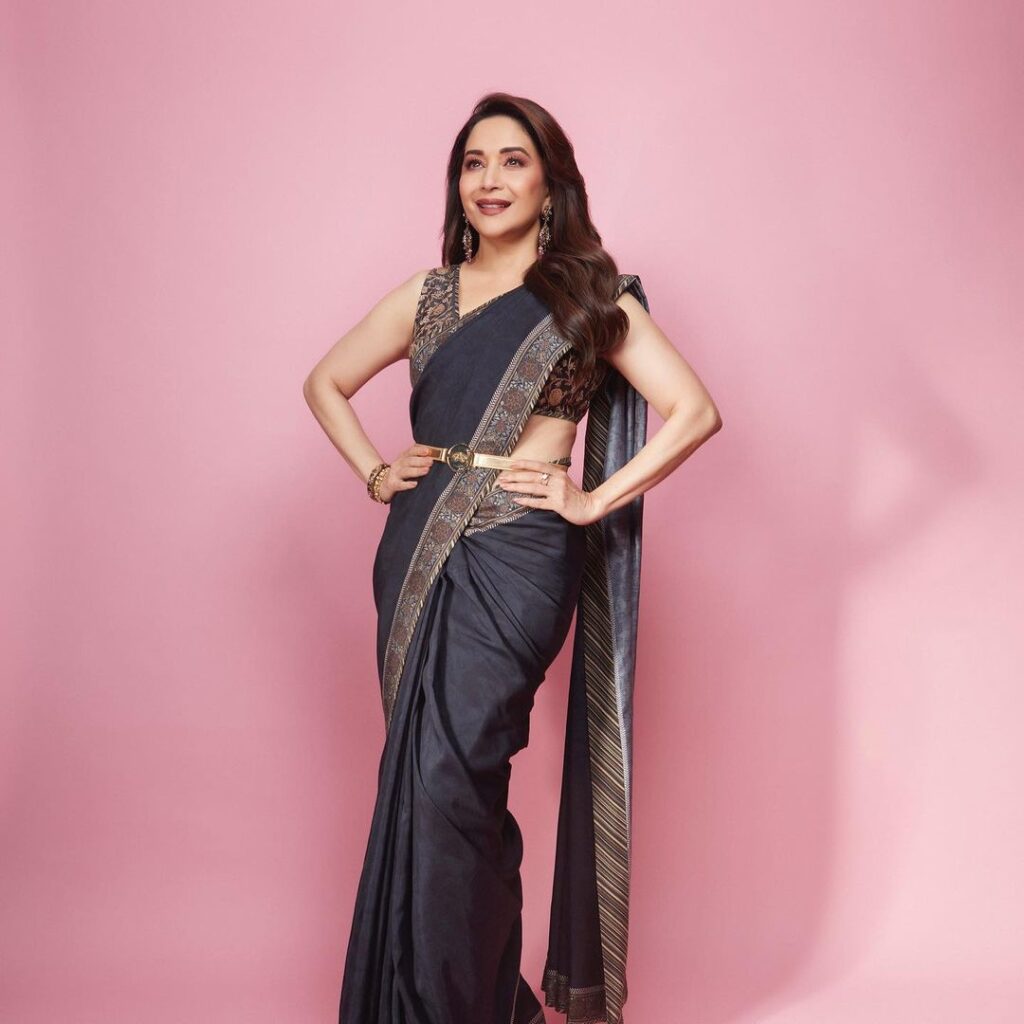 She captioned,
Good to see so many bright entrepreneurs at the Global Excellence Awards. Thank you Brand Empower for inviting me to be guest of honour at your event.

instagram
Madhuri paired her lovely banarasi saree with a matching gold-brown belt, effortlessly accentuating her graceful silhouette. As always, her million-dollar smile illuminated the room, radiating warmth and joy.
See also: Top 10 Most Beautiful Asian Actresses
It is evident that Madhuri Dixit is aging like a fine wine, defying the passage of time with her timeless elegance. Her beauty continues to inspire awe and admiration.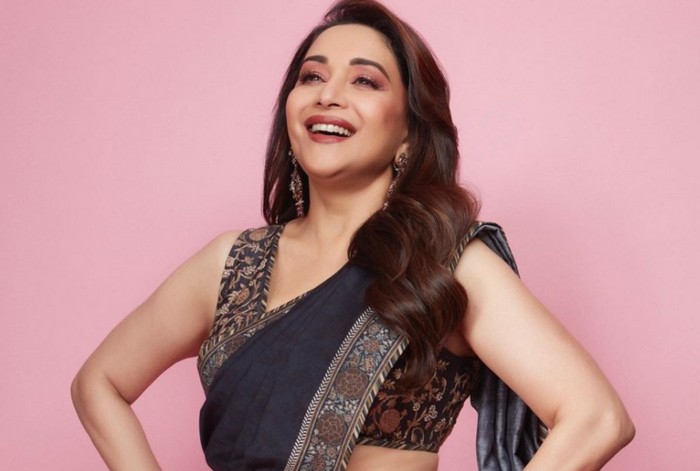 See also: Top 10 Indian Women Who Have Aged Gracefully
When discussing Bollywood icons, the name Madhuri Dixit is bound to be mentioned. Since her debut in the 80s, she has been one of the most influential figures in the industry.
From portraying the vengeful ghost of a mother to a spirited yet responsible sister, Madhuri has showcased her versatility and talent in various roles. It comes as no surprise that her movies were considered surefire hits during their time.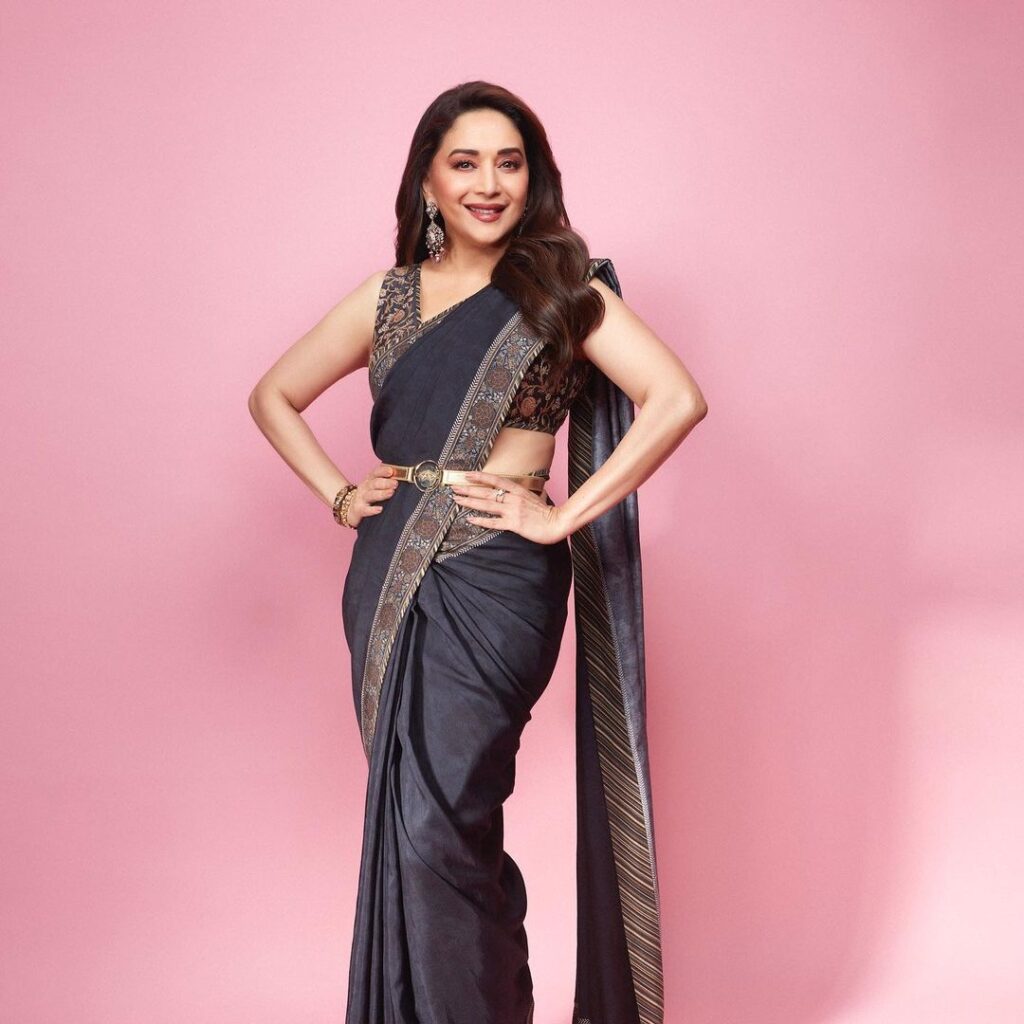 In recent news, it has been reported that Netflix has received a legal notice from Madhuri Dixit's lawyers regarding a "derogatory" remark made about the Bollywood star in an episode of The Big Bang Theory. This incident serves as a testament to her standing in the industry and the respect she commands.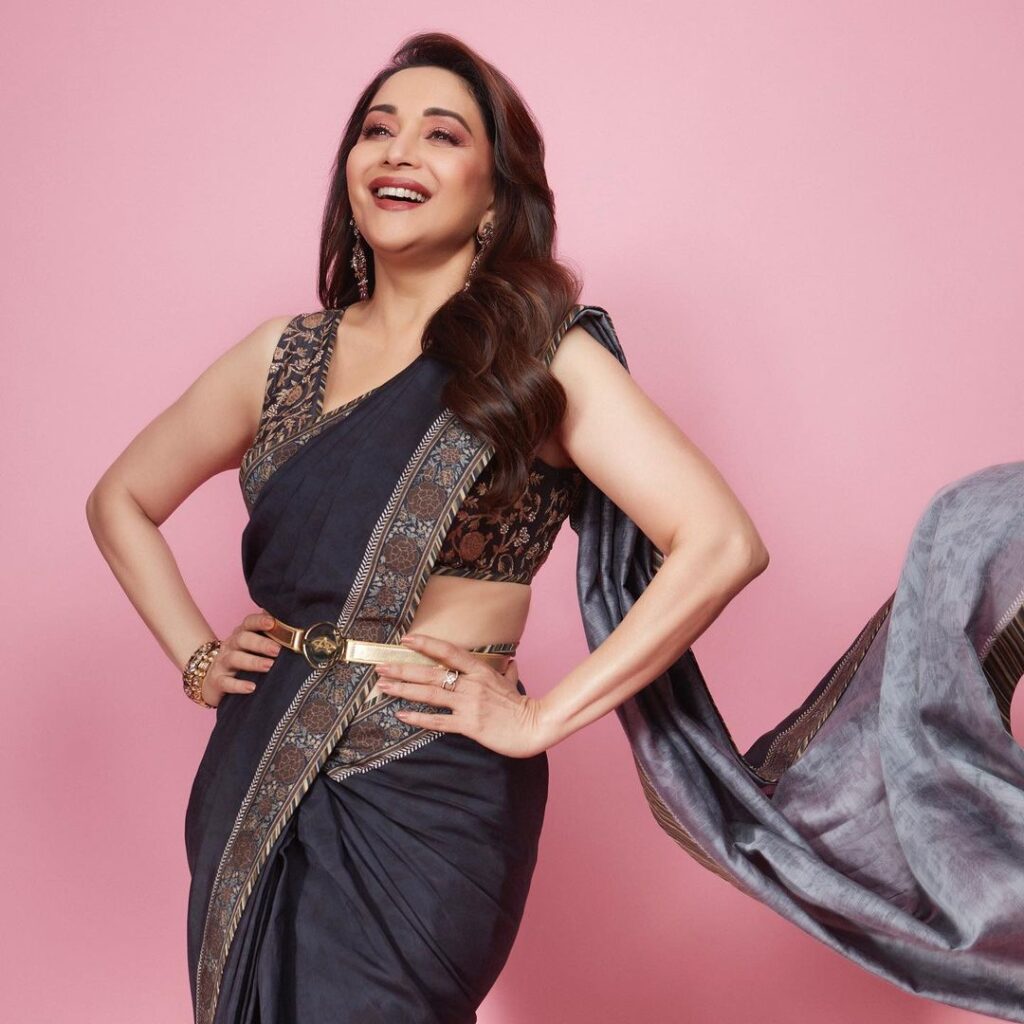 Madhuri Dixit's charm and grace continue to captivate audiences, and her fashion choices only add to her allure. Whether she is donning a traditional saree or a contemporary ensemble, she effortlessly carries herself with poise and elegance.
Madhuri Dixit remains an epitome of timeless beauty and an inspiration to all, proving that age is just a number when it comes to exuding charisma and enchantment.
FAQs: Legendary Actress Madhuri Dixit
Is Madhuri Dixit a Millionaire?
Yes, Madhuri Dixit is indeed a millionaire. As of 2023, the famous Indian actress has an estimated net worth of $34 million. She was born on May 15, 1967, and has achieved significant success in the entertainment industry throughout her career. Her talent, charisma, and iconic status have contributed to her financial success, making her one of the wealthiest actresses in Bollywood.
What is the income of Madhuri Dixit?
As of 2023, Madhuri Dixit's net worth is estimated to be $40 million. In Indian Rupees, her net worth is approximately 250 crore INR. Her earnings are quite substantial, with a salary of 15 crore or more. Additionally, her monthly income is reported to be around 1.2 crore or more. Madhuri Dixit's successful career and various ventures have contributed to her significant income and financial success.
How did Madhuri and Dr Nene meet?
Madhuri Dixit and Dr. Shriram Nene's love story began at a party where they were introduced by Madhuri's brother, Ajit Dixit. In a later interview, Madhuri revealed that it was an instant connection between them, and they fell in love right from the start. The specifics of the party or the exact circumstances of their meeting have not been elaborated upon, but it was through this introduction that Madhuri and Dr. Nene's journey of love began.
How many years did Madhuri Dixit live in USA?
After her marriage, Madhuri Dixit moved to Denver, USA. She made the decision to leave India and settle in the United States at the peak of her career. She relocated in 1999 and lived there for over a decade. During this time, Madhuri took a break from acting in Bollywood films and focused on her personal life. However, in 2011, she returned to India and made a comeback in the film industry, reestablishing her presence as one of Bollywood's most beloved actresses.
Who is the No 1 richest actress in India?
Aishwarya Rai Bachchan is considered the richest actress in India. With a reported net worth of $100 million, she has achieved significant financial success throughout her career. Aishwarya Rai Bachchan, known for her beauty and talent, has established herself as a prominent figure in the Indian film industry and has also made a name for herself on the global stage.