Celebrities are the ultimate trend setters of each season, be it a long mane of blond or dark hair or the cut short style of hair, celebrities are often the ones behind their on setting. Browse below to get the top 10 celebrity stylish hairstyles ideas this season;
The Top 10 Celebrity Stylish Hairstyles:
10. Simple Mane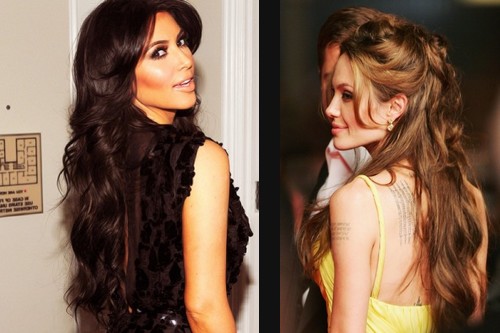 Though there is a considerable collection of short and trendy hairstyles but the grace associated with the healthy, strong, shiny and long mane is nowhere near to them. No wonder Angelina Jolie and Kim Kardashian are so much in love with their gorgeous tresses since they are quite versatile in their attire. Long hair can be worn down as a casual look, but if in need of some stylish and different look, have them braided in different styles including French, fishtail and simple braid.
9. Wavy Hairstyles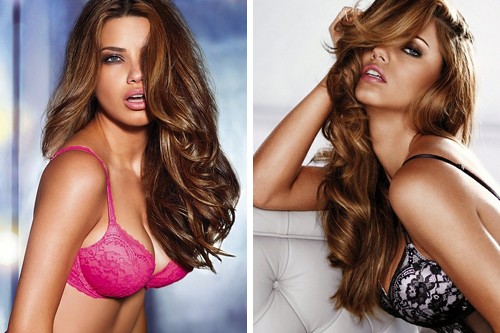 Wavy hairstyles are always in a full swing, the reason? Wavy hair is both glamorous and easy to handle as they require minimal management and itself is a complete hairstyle. Wavy styles are suited for both medium and long hair, the reason they are so much famous among our beloved celebrities. Talking about celebrities, Adriana Lima's versatile wavy hairstyle is a hit of every season as it can be adopted whenever you want and are perfect for giving you a chic and sexy look. The style is face emphasizing, styling the layers close and around your face.
8. Textured Layers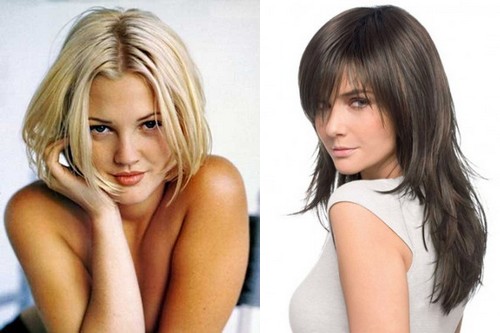 Texture layers are a mix of long and short layers styled between your mouth and collarbone; Drew Barrymore's hairstyle is an ideal example of blended textured layers. The hairstyle is ideal for women with medium-fine hair with wavy touch and oval or heart shaped faces. The style is good for both long and medium hair but it even works better with medium shoulder length hair as the layers will be more accentuated with short layers at mouth length with longer layers at collarbone.
7. Shaggy Chopped Bob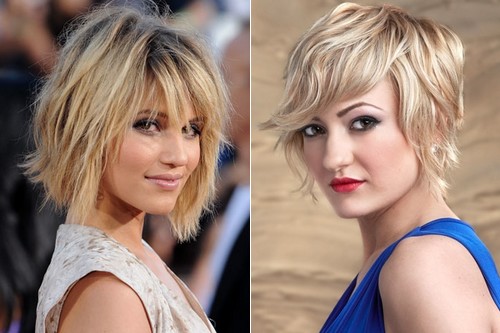 The hairstyle is a blend of classic bob and straight hair as it is neither pin straight like a simple mane and not completely bobbed like a usual bob haircut. The style is a bit rough as the name suggests with a slightly long bob coming to the mid of your neck instead of being right under the ear and is styled outward then inway unlike the conventional bob. The style is a cool and wild look like Blimey Jingles who is spotted with a shaggy chopped bob.
6. Curled Long Bob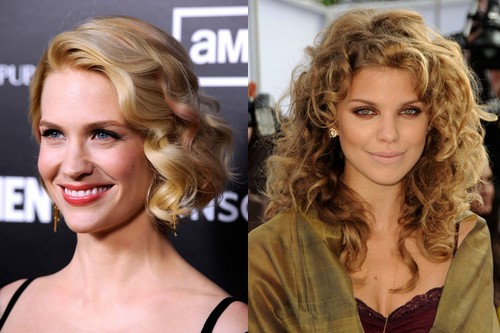 Like a shaggy chopped bob, curled long bob is different than the conventional one as it is a bit longer and has loose curls and waves in it. January Jones has taken up the hairstyle and looks stylishly gorgeous in it; the style comes to the mid length of your neck. The hairstyle is suited in both curled and wavy style, have them curled to the edges or have a wavy touch all though them. The style is ideal for those who want to have an effortless stylish look as it will not need much styling.
5. Straight Hairstyles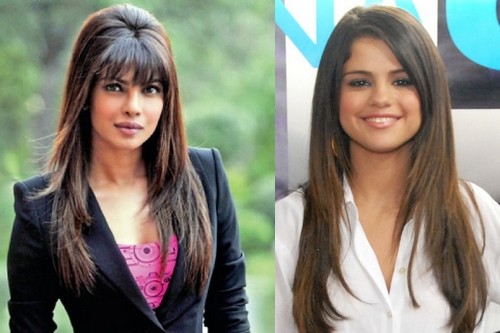 Straight hairstyles are always in fashion, they are cool, gorgeous, stylish, easy to handle and manage and can be turned into any look you want. Emma Watson, Kiernan Shipka, Poppy Delvevigne are some of the names of famous celebs making stunning red carpet appearances with their straight hairstyles. They can be simply worn as they are or can be styled in a number of ways; loose waves, long layers like JLO, twists and updos, straight hairstyles are good with anything and everything.
4. Pixie Hairstyles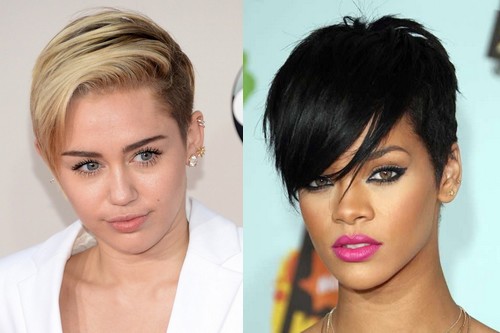 Pixie hairstyles have become quite famous in last few years, all thanks to our celebs who have been seen on a number of occasions with a pixie hairstyle. The style is originated from the family of close cropped hair, which is again your choice whether you want to have it entirely tugged to your head or faintly extended. Rihanna, Miley Cyrus and Vanessa Hudgens are some of the celebs who played fundamental role in making the style popular.
3. Updos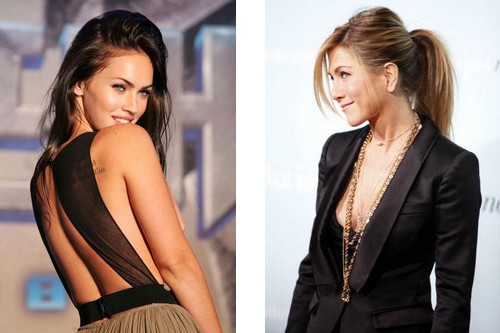 Updos are quite famous among our celebrities, they carry the look on red carpet, in their social gatherings, occasions and in their daily life too; like some of the hairstyles mentioned in the list, updos are suitable for every hair length besides the too short ones. Emma Watson, Jessica Alba, The Kardasian Sisters, Megan Fox, Adele and Jennifer Anistan are often seen with an elegant updo complimenting their beauty and style. Updos are of many kinds a simple bun, braided buns, messy buns, simple and messy side buns are some of the celeb favorite updos.
2. Messy Layers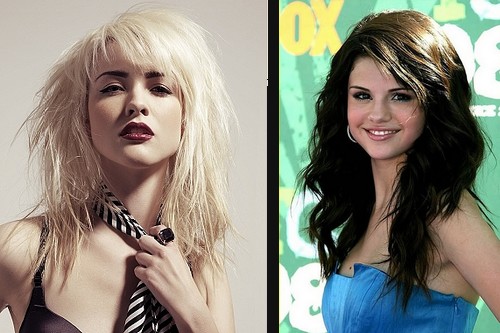 Messy layers are a classic hairstyle made iconic by Meg Ryan in 1997; the season has been drenched with short hairstyles especially bob cuts with different angles and edges. Messy layer is also a short hairstyle and still holds the same vivacity as it had back then in 1997, it is similar to asymmetrical cut and has lots of messy uneven cut and styled layers. Though it is a short cut but you can have it in your long hair too, the key is to stick to rough irregular cut layers instead of sleek smooth look.
1. Undercuts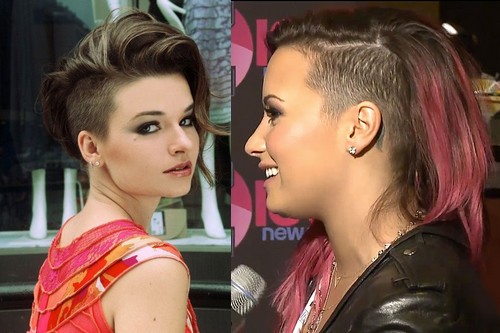 Undercuts are the newest craze of celebrities all around, Demi Lovatto, Jada Pinkett Smith and Alicia Keys are seen making spectacular red carpet appearances. Undercuts were previously associated with men only and is a relative of close cropped hair, but now women have also given up their tresses for this short daring look. The hair is usually styled in the mid of the head while the sides are closely chopped; the style is versatile with both long and short hair and can be refurbished by keeping the usual hair-in-mid style or shift your hair to one side. Trendy hair-cuts for 2019.