India is a dream place for exploration. Tourists come every year to see the serene beauty of this country. Waterfalls are one of the attractions that serve the tourists to see the amazing beauty of the country. The top 10 Highest Waterfalls in India are described below.
10. Barkana Falls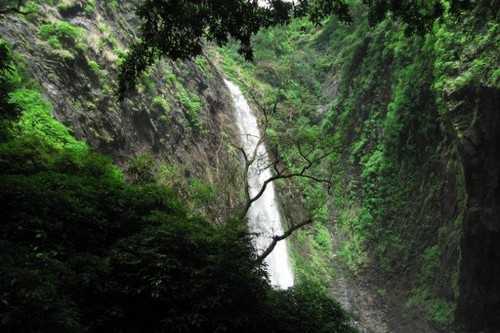 Barkana falls is situated in Karnataka state. The height of this waterfall is 850 feet. This is a part of western ghat mountain range, located in Balehalli forest area. Agumbe-barkana trek is very famous in India. Hydroelectricity is the main source of Karnataka state. This waterfall helps a lot to get the electricity. It is said that the best time to visit barkana falls is in monsoon. Some prefer to visit this place in winter also. By air, it is a bit hard to reach the place because the nearest international airport is in Mangalore which is almost 135km away.
9. Thalaiyar Falls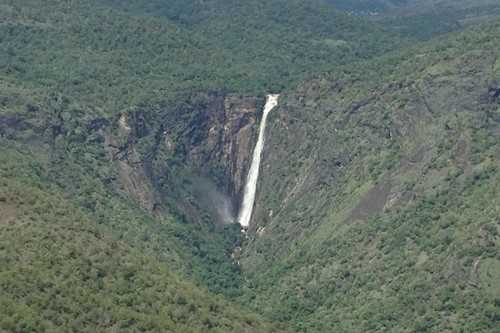 Thalaiyar falls is situated at Kodaikanal in Tamil Nadu state. The height of this waterfall is 297 meters. This is the highest waterfalls in India (Tamil Nadu). In world ranking, this is the 267th on the basic of height. This is a place where trekking is regularly taking place as the place is very calm and attractive. If anyone wants to visit the waterfall try to come on weekdays as the route remains closed in Sundays. Nearest airport is in Madurai which is 120km away from the falls.
8. Meenmutty Falls

This is located at Kalpetta in Kerala state of India. The ferocious stream becomes pure white while slopping down the rocks. This is a marvellous view I must say. The amazing natural beauty is worth watching. There is also a 2km trek available for tourists. To reach the falls, one has to land at Calicut Airport and then take a cab. The height of the waterfall is 300meters. This is another waterfall which is used to get electricity.
7. Kynrem Falls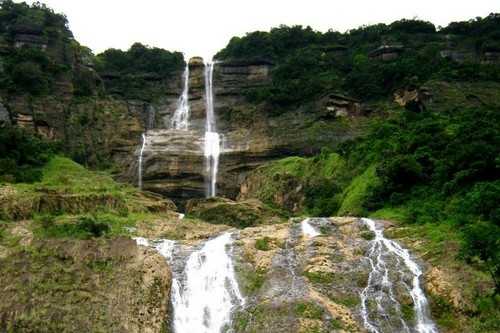 Kynrem is located at Cherrapunjee. Tourists are taken to a particular view point from where people can get a look of the three levels of the fall. Total height of the fall is 305 meters. This Tiered type of waterfall is a very famous attraction of Meghalaya. The journey to the top of the view point is very interesting because of the super bendy roads and that too full of rocks. The best time to visit this place is in monsoon. Most of the times people visit this place by driving their own car through the national highways. This can be a very good bachelor's trip.
6. Dudhsagar Falls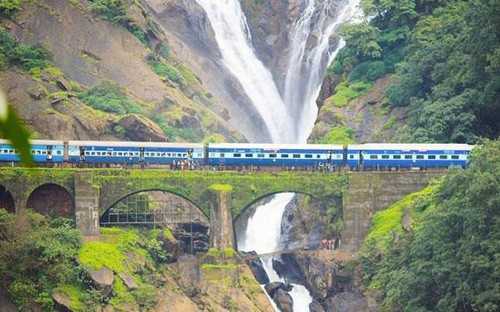 The height of Dudhsagar falls is 1017 feet. It is located at Goa. One can visit the place with the help of Bhagwan Mahavir Wild Life Sanctuary Taxis as this is the only way to access. The half view of the fall can also be seen if you reach Goa by train. Recently the film 'Chennai Express' was shot at this place. Again, monsoon is the best time to visit this place. As the name says the fall looks like milk flowing down meeting the sea. It can be a very good trip for families as well as for couples.
5. Nohsngithiang Falls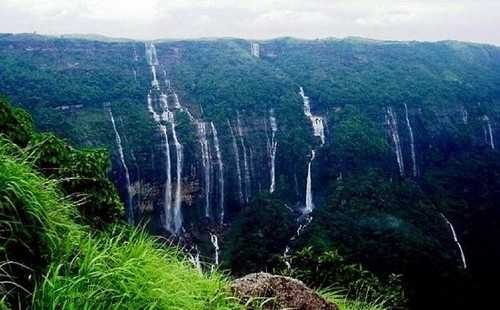 Nohsngithiang falls is situated in Meghalaya. It is one of the beautiful as well as tallest waterfalls we have in India. It is of 315 feet. This is the major tourist attraction in Cherrapunjee. This is also called as Seven Sister falls. The seven sisters denote the seven streams of the waterfall. From Shillong it is almost 99km away and takes 2.5 hours to reach. A shillong trip without Nohsngithiang falls is not considerable at all.
4. Bhimkund Falls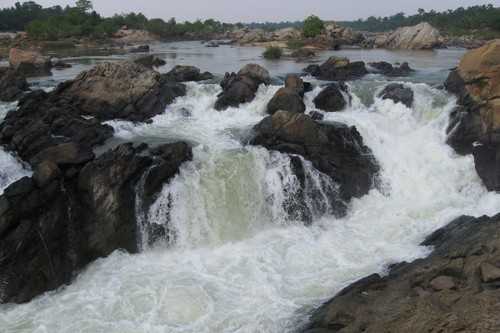 This is situated in Odissa. Bhimkund is basically a natural water reservoir located about 100km from Keonjhar. The steps on which the river is flowing make the river looks like a waterfall. There is alot of myth heard about this place that you can also hear from your tourist guide. The choppy water looks really nice but be very cautious while clicking pictures as there are a lot of stones which starts rolling down anytime. You can hear the sound of the stream from the entire locality.
3. Nohkalikai Falls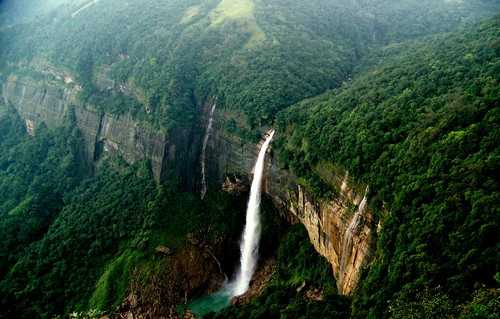 Nohkaikikai falls trekking is another very interesting thing to do in India. The height of this fall is 1115 feet making it the 3rd highest waterfalls in India. This is also situated the place of waterfalls, Meghalaya. It is almost 53km away from Shillong. If you drive your car to this place beware of the fact that you have to be too attentive while driving as there will be lots of Lorries passing you. Yes, the traffic is really intolerable here.
2. Thoseghar Falls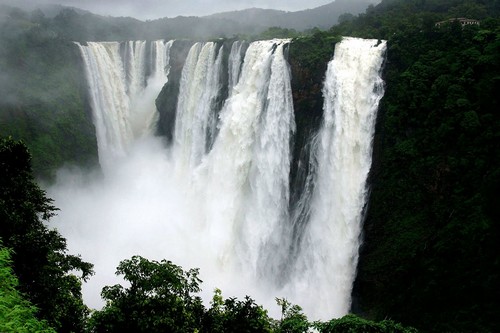 Thoseghar falls is located in Maharashtra. It is a cataract and segmented type of waterfall. Total height is 500 meters. The best season to visit this place is monsoon. This has become a great area for picnic for local people. You can also visit Bamnoli waterfalls which is few minutes away from this place.
1. Narmada Falls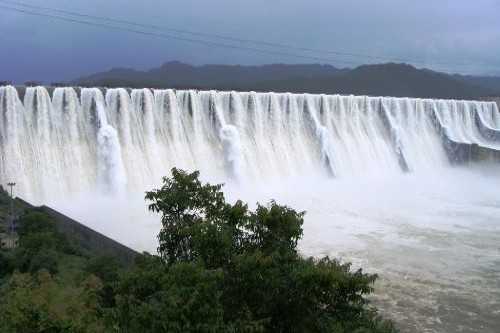 It is a natural waterfall located in Narmada River. This is also called as Dhuandhar Falls. There are some seight-seeings that you can afford in this place. Boat rides are available in Panchvati Ghat. Again monsoon is the best time to visit this place. This is the top amongst highest waterfalls in India.
Top 10 Highest Waterfalls in India
1. Narmada falls
2. Thoseghar Falls
3. Nohkalikai Falls
4. Bhimkund Falls
5. Nohsngithiang Falls
6. Dushsagar Falls
7. Kynrem Falls
8. Meenmutty Falls
9. Thalaiyar Falls
10. Barkana Falls
Author- Pritha Ghosh