Certainly the way Bollywood divas carry themselves and walk around can make any normal girl wonder why god discriminates when he distributes beauty but once you run through the following lines I believe its not god but a doctor who works as per instructed.
Bollywood Actresses Who Went Through Plastic Surgery
#10. Kangana Ranaut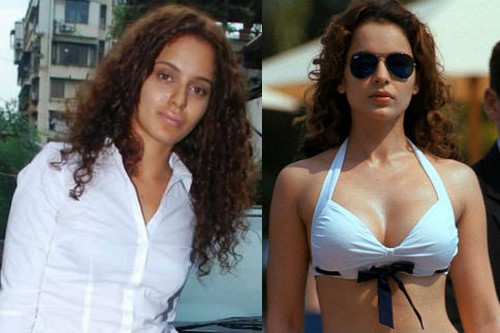 This sweet and simple girl from the hills, could not resist undergoing lip job done. Her bee stung lips come no natural and thanks to science that made it all possible. Seems as if she was so happy with the lips that later on she chose to go through the silicon implants as well.
See Also: Top 10 Most Kissable Actresses of Bollywood.
#9. Shilpa Shetty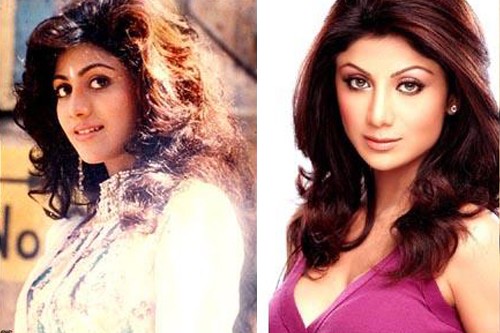 This tall, dusky beauty is a hardcore believer of cosmetic surgeons. Afterall her flawless butt and nose are attributed to them. No wonder when the elite businessman Raj Kundra is a spouse, why should she worry about her uncountable dollars being spent on shaping her self up.
See Also: Hot LBD Looks of Bollywood Actresses!.
#8. Kareena Kapoor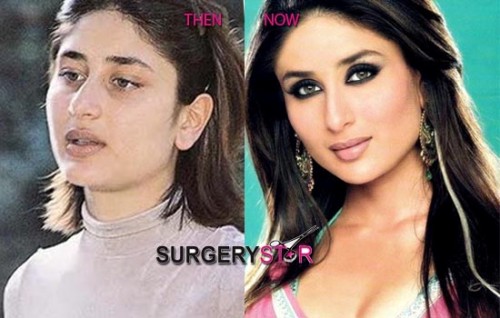 Certainly, with her milky white complexion, a well maintained figure, a classy hair do, this chic creates a smokescreen of a natural beauty. How can we not notice and deny her surgically obtained impeccable cheek bones and jaws for a million dollar face ?
See Also: Bollywood Actresses in Bikini.
#7. Manisha Lamba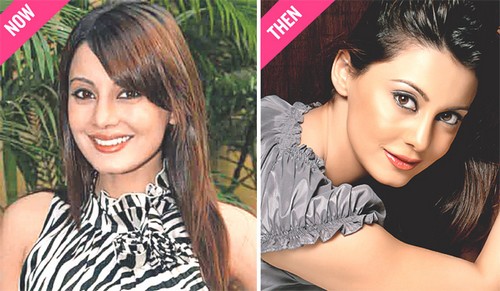 Seen her nose ? Seems changed, right ? Yeah, of course this adorable doll carries an artificially polished nose. I wonder what's up with bollywood, why spend so much on a nose ?
See Also: Top 15 Bollywood Bikini Babes of All Time.
#6. Koena Mitra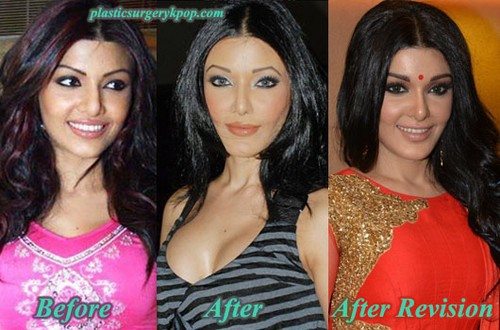 This actress might have got inspired by her fellow colleagues and ran straight into a surgeon's clinic for getting a nose job too, but, alas, it did not work the way it worked for others. Her nose job is a total disaster and much talked cosmetic surgery fiasco.
See Also: 20 Bollywood Actresses Who Dared To Bare!.
#5. Gauhar Khan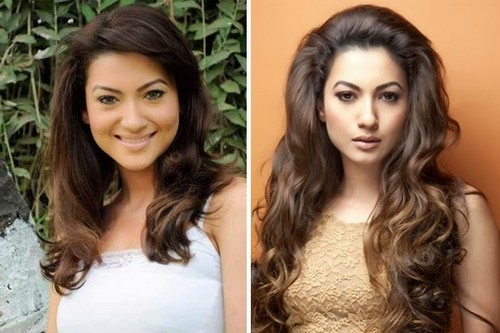 She is another example who got inspired and gathered enough courage to play with her lips which again was a failure unfortunately. Her lip augmentation left her with no choice other than hiding behind the cameras for a certain duration of time.
See Also: 10 Worst Appearances of Bollywood Actresses.
#4. Rakhi Sawant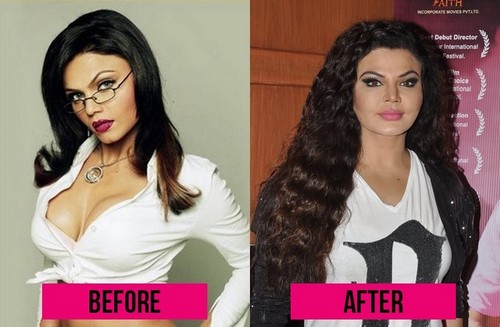 This wanna be actress openly acknowledges her fondness for the plastic surgeons. To be specific, she underwent, a nose and a lip job n number of times.
See Also: 15 Most Embarrassing Moments of Bollywood Celebrities.
#3. Preity Zinta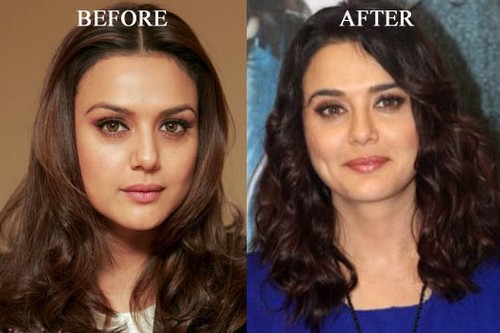 I wondered why does Miss Zinta not look old ? Why does her face shape seem so distinct every time ? Has she gained weight or lost it in a flash ? And to so many different questions there exists only one answers :FILLERS. She just can't stop the use of fillers.
See Also: 10 Bollywood Celebrities with Exceptional Intelligence.
#2. Aishwarya Rai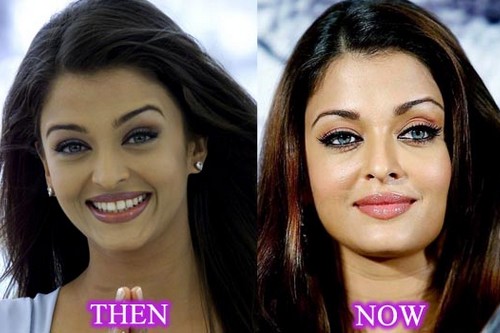 This more discreet and "sati savatri bahu" has undergone surgeries as well to look flawless like a porcelain doll .
There's a reason why hollywood considers her plastic looking in awestruck mode. Probably because she really is. The jaw, the face, the lines and the complexion, everything is treated.
See Also: Top 10 Most Beautiful Indian Women.
#1. Priyanka Chopra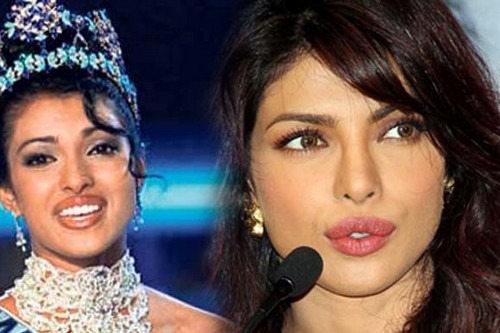 This former miss world is a plastic surgery delight. She underent nose jobs infinite times until one day she finally hit the perfect one. Amused by the results she went on to get a lip job done as well and came up with an artificially created envied pout. This was further more than enough for her to persuade her to get numerous skin lightening treatments to get over the "brownie" tag which Americans gave her long back.
See Also: The 10 Most Beautiful Lips in Bollywood.
So, yeah! god is just enough, it's just the money, the doctors, the people and their thoughts that roll the dice in the real world.
List Created By: Palak Gupta