We always take very good care of our face by indulging in a good CTM routine each day and also splurge in expensive body washes and body lotions but do we take care of our hands, the same way? I guess, many of the girls out their are guilty of ignoring the care of their hands. However, this is not good since, the skin over our hands is thinner and shows signs of ageing even earlier than our body. There are no sebaceous glands in the hands to keep them naturally hydrated so, it is of even more importance to pamper your hands with quality hand creams and regular manicures to keep the skin of your hands soft and nourished, your cuticles soft and neatly maintained. Read on below to know about hot oil manicures that are loved by one and all.
The spa and salon industry is making a lot of money by providing it's clients with luxurios hot oil manicures. Usually, these treatments at spas are quite expensive and can poke a hole in your pocket so, with a little know how, you can save a lot of money by attempting the hot oil manicure therapy right at the convenience of your own home and get healthy and nourished hands, cuticles as well as nails.
How to do hot oil manicures at home?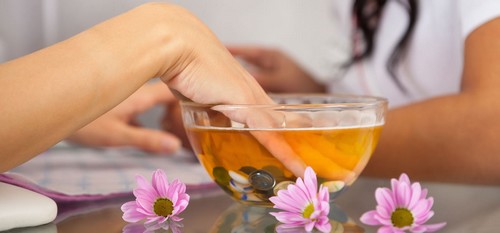 Prepare your manicure therapy oil:
Procedure:
You can adjust the contents as per your choice and availability. Please restrict the quantity of essential oils to just 2 t 3 drops in the entire mixture.
Warm oil mix is able to penetrate the skin of your hands much better. So, put this mix in a microwave safe glass bowl and heat for 30 seconds.
Check if the oil is comfortable for you to dip your fingers in. If yes, then dip your hands in the oil so that your nails are also fully immersed in warm oil.
Keep the hands dipped till the oil is cooled down.
Take out your hands and thoroughly massage the oil into skin.
Thereafter, wash your hands with Lukewarm water and pat dry.
Follow with a hand cream to lock in the moisture.
Benefits of hot oil manicures:
Most of the oils used are rich in antioxidants and prevent ageing of the skin of your hands.
The cuticles are softened making their trimming using a cuticle shaper and pusher much easier.
Your skin gets healthier and appears nourished.
Your nails grow stronger and are not brittle to breakage.
The growth of your nails improves and they also end up looking much cleaner.
Hangnails are easy to get rid of after this process.
While massaging the oils, the circulation in your hands improves.
The flexibility of wrists gets improved as you massage the oil into your hands and cuticles.
Acupuncture points in the hands that correspond to different organs and different systems within the body get activated, too.
Massaging certain areas of your hands activates energy pathways to help the Chakras of your body function, properly.
Benefits of getting hot oil manicures treatment done at spa.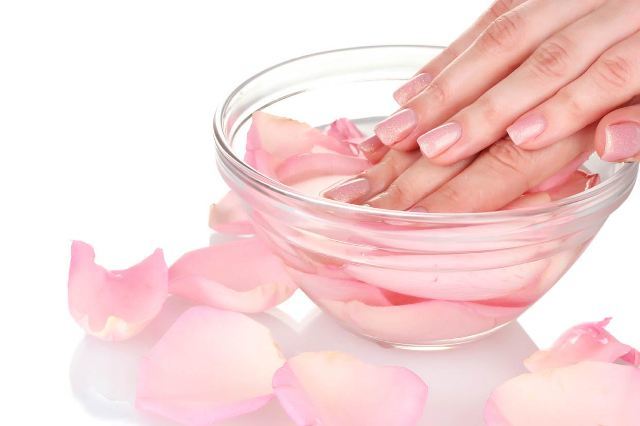 If you prefer, you can get this hot oil manicure therapy at the spa to make it more relaxing. There is no harm in indulging in a self pampering session, if you have that kind of money. You might get complimentary services with your session,too. The aura at the spa is definitely makes you feel pampered.
Also, you are at the disposal of thorough professional masseuse at the spa, who know the exact strokes and points of your hands and the intensity of pressure that needs to be exerted over different areas of your palms and fingertips to make your manicure more relaxing. Plus, you do not have to arrange and stock so many varieties of oils at your home.