Nowadays, we are growing ever closer to the people in our world today. At the touch of a button we can send them funny pictures, messages, videos and snaps. Throughout the wide domain of the Internet, they are thousands of different ways in which to connect with people in a variety of means. Here are some of the best social media sites: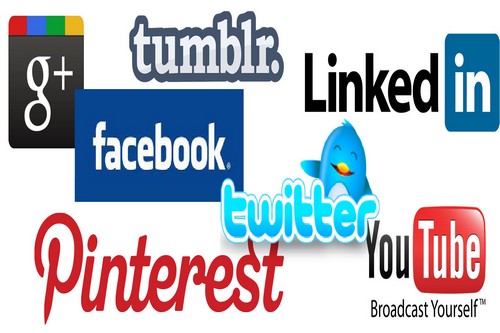 10. Whatsapp
The free new messaging site, where you can have the freedom of text messages without breaking the bank. Whatsapp is a hugely popular and successful app, which has revolutionised the way in which we text. From images to graphics, quick messages to long essays, Whatsapp is a highly praised new form of communication. Whatsapp is now worth around $19 billion. Whatsapp is being used by people of all ages, from young people to old. Group chats have now become a thing of the present, which you can have a conversation with a large group of people rather than an individual conversation with each person. Whatsapp really is truly great.
9. Tumblr
Tumblr is a relatively new site, for blogs. Users can like, repost and create blogs on the site which is very popular for alternative people. Blogs can range from philosophical theories about life to simple jokes and memes. Tumblr is a great forum in which to begin creating blogs because you are guaranteed to quickly gain a large fan base. Tumblr is worth around $800 million, a fantastic sum for its maker, David Karp.
8. Tinder
Tinder, the world largest dating website has millions of singletons ready to mingle. The app is designed to bring people together based on their location, looks, interests and personalities. The app has been used from normal working class people to A-List celebrities. It is worth around $2 billion!! The average user goes on tinder daily, approximately eleven times. There are over 15 million matches made ever day. Astonishing!! What are you waiting for? If you are wanting to find the perfect partner, Tinder is the place for you!!
7. Pinterest
Anybody wanting to learn something craft filled, cookery based or beauty centred knows that there is only one place that can do the job correctly: Pinterest. This internet sensation has changed how you can discover stuff today. Typically used by women, the app is funny, eccentric, quirky and extremely popular. The key underlining aim of Pinterest is to discover something of interest and pin it where your friends and family can see them and view them along with you. It has been ranked the third largest social media platform in the world behind Facebook and Twitter, rather surprisingly to some people. Pinterest largely reserves to make this list because of its creativity, diversity and the ambience that the site delivers.
6. YouTube
YouTube, the world's most popular video sharing site on the net. YouTube was first launched in 2005 and has rocketed off since. People have even earned millions of the site such as beauty blogger Zoella and gamer PewDiePie. Many famous people have had their careers launched after being discovered on YouTube, such as Justin Bieber and Charlie Puth. YouTube has been really popular with tutorial videos, with everything from crafts to how to tame seals. YouTube is internet glory.
5. Linkedin
The world's largest business based social media sites has been around for years and has one of the most recognisable social media icons, the large letters. The site has over 40 million users and is a force to be reckoned with.
4. Snapchat
This fun way to keep in touch with your friends and family by sending quick snaps and short video clips. Snapchat is the most fun social media site that is around. From funny face filters that can make you look like a dog, slice of toast or a mad scientist, to hugely interesting news stories on the discover section, Snapchat is something of genius. The site is relatively new to the scene but has been an instant hit. Celebrities have even been using the site to their thirsty fans, with he most popular being Kylie Jenner, who has 10 million followers.
3. Instagram
The new Facebook has everybody in a spin with thousands of celebrities and ordinary folk joining its ranks. The site justly simple shares photos and short videos that can be liked or commented on but it has taken over the Net. There are now hundreds of millions of people on the Instagram – it really is magnificent. Just sit back and let the power of photographs make you happy.
2. Twitter
One of the biggest social media sites ever to sprout from the Internet, Twitter has been a global force to take over the Internet, Twitter changed everything about how we communicate with friends and celebrities. From daily tweets about what we have for breakfast to meaningful messages that the world must know, from marriage proposals to Sunday roast. Twitter has even had people like the Pope joining its ranks; the famous little blue bird is now known globally for its tweets.
1. Facebook
The old favourite, Facebook has been around since 2004 after being created by the genius Mark Zuckerburg. The site lets you view photos and comments by your friends. Sounds simple enough but this site has become a multi billion pound business, even opening up a side window if Facebook Messenger. This site is the firm favourite of many a social media, perhaps the most famous person being Shakira. Facebook is the home to all the big social media sites today.
Top 10 Social Media Sites
Facebook
Twitter
Instagram
Snapchat
Linkedin
YouTube
Pinterest
Tinder
Tumbler
Whatsapp
Author – Margo Green