We all must have spent a significant of hours walking, lurking and biking in the streets. There is a distinct memoir associated with streets and then how can we forget the foods hogged on to curb our hunger often whilst playing around.
Foodies pay attention, following is the list of top ten lip smacking Indian street foods that will fetch your attention irrespective of you being gourmet or connoisseur.
10. Pav Bhaji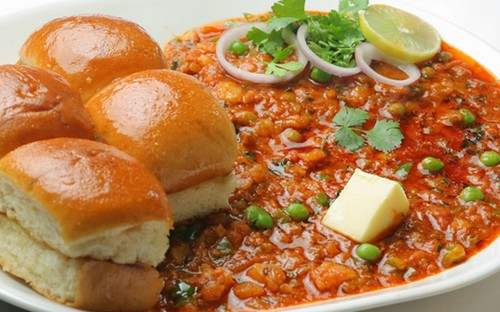 This savory fast food from Maharashtra is a thick vegetable curry prepared in butter and served with buttered bread rolls. It is a combination of multiple veggies. Jam packed with the spices and flavours, this one will sure leaving you asking for another plate. Often accompanied by onions,coriander and green chilies.
See Also: 10 Most Amazing Facts About India.
9. Vada Pav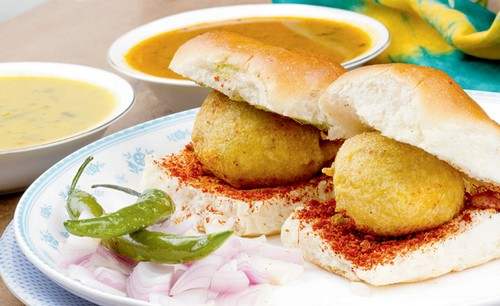 Are you a potato lover? If yes, this one is for you and by the way who is not? A deep fried potato engulfed by the two crisp bread rolls. The potato patty is coated with the gram flour impeccably submerged under the spices like coriander, chilies, turmeric, red pepper and is usually served with hot and sour chutneys.
8. Dabeli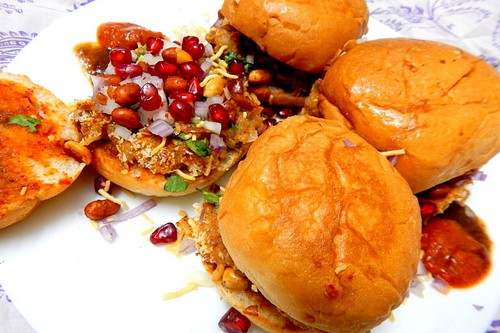 A street food that is the innovation of Kutch and therefore it is also called Kutchi dabeli, which is nothing but double roti. A lok alike of vada pav, this Gujarati fast food has a deep fried potato patty stuffed inside the pan seered bun and lots of spices and chutneys are drizzled on the patty. On the bun, lay still the pomegranate, gram floor vermicelli, coriander, grapes and few chilies. On the whole it is a rich, exotic and tangy flavour that will make your mouth water.
7. Kachori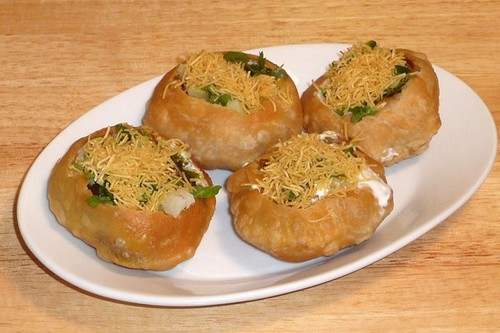 Coming up next on the list of top ten lip smacking street foods is Kachori. This snack is not only peculiar to India but to Pakistan and other parts of South Asia as well. It is a crisp, flaky, spicy pastry with myriad kinds of fillings ranging from simple peas to the moong and urad dal. It is light, warm and heart rendering and you are gonna fall in love with every bite of it. Served best with coriander and dates chutney, it is a sure welcome food.
6. Pani Puri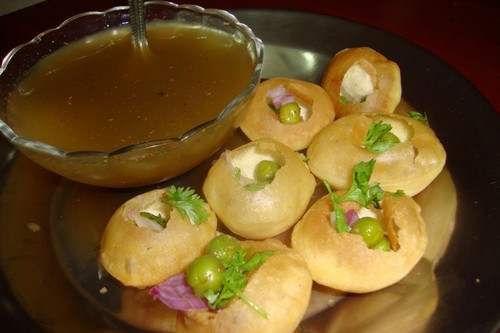 It is the beloved of all the foodies. Pretty inexpensive, yet holds a steady mark on the list. It is mostly preferred in both north and east India. In East India, it is known as Phuchhka while in North India, it's called golgappa. It consists of a round, hollow puri, fried crisp and filled with a mixture of flavored water (pani), tamarind chutney, chili, chaat masala, potato, onion and chickpeas. This gives both a sweet and savory sensation to your tongues.
5. BhelPuri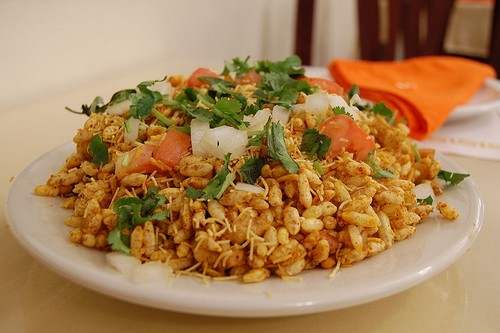 Again a very famous Mumbai street food that grabs a spot for itself on the list of top ten lip smacking Indian street foods is bhelpuri. The main ingredients comprise of puffed rice and tangy tamarind chutney accompanied by lots of onions, chilies, coriander and a whole host of distinct spices. Yes, by now you may have gathered that Indian street food is all about spices. There are two types of bhel puri: dried and wet. Dried is similar to wet minus chutneys. Add potatoes, peanuts and what gram flour vermicelli to take it a notch higher.
4. Idli chilli fry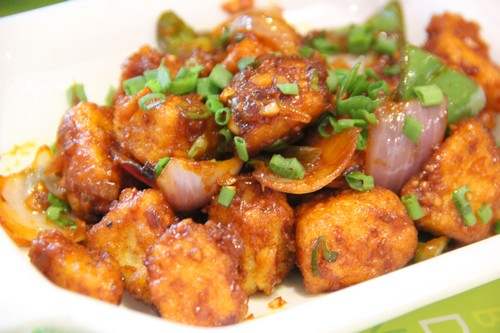 This street food seems like a symbiotic relationship between South India and China. Tastes like an original idli that is submerged under the chilli cheese stuffing or gravy. Usually deep or pan fried, this delicious piece of idli is mixed with sauteed onions,chilies, capsicum and tastes nothing less than amazing. Give your regular idlis a new make over.
3. Momos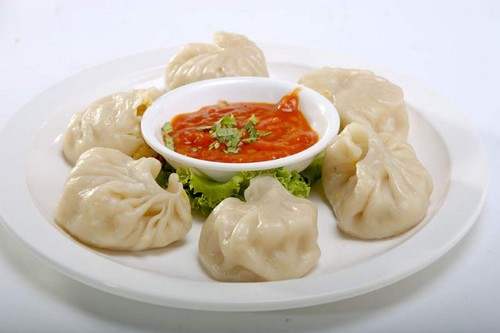 Who has not heard of them and who does not like them? It is a type of South Asian dumpling; native to Tibet, Sikkim state and Darjeeling district of India, Bhutan and Nepal. It is similar to Chinese baozi and jiaozi, Mongolian buuz, Japanese gyoza and Korean mandu. This sizzling dish is a creation of the Tibetans and got spread with the heavy influx of Tibetan diaspora. It is steamy, hot and tantalizing. The tiny dumplings made out of white floor consist of varied filling either of onions, soyaballs, chicken, mutton mince, pork mince, mashed potato and is best served with high intensity garlic-chili chutneys.
2. Litti Chokha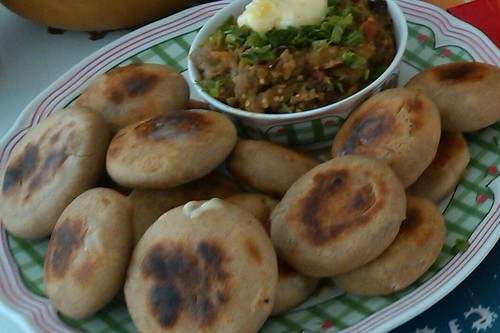 A heart winning dish that makes your tongue go restless owes to Bihar and Jarkhand. A savory dish that can be eaten in lunch, breakfast, dinner and supper is a dough wall stuffed with sattu mixed with herbs and spices and then roasted over coal or cow dung cakes or wood then it is tossed with lots of ghee.Herbs and spices used to flavour the litti include Onion, garlic, ginger, coriander leaves, lime juice, carom seeds, nigella seeds and salt.
1. Aloo Tikki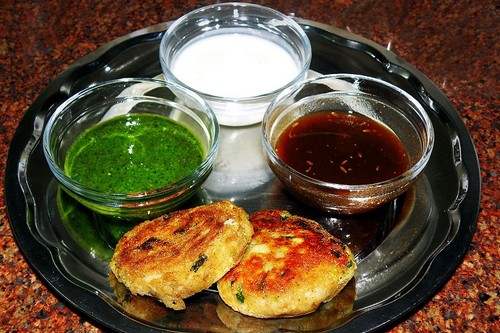 Last but not the least, Aloo Tikki bags the first position on the list of top ten Indian lip smacking street foods. Aloo tikki is a North Indian, Pakistani and Bangladeshi snack made out of boiled potatoes, onions and various spices. "Aloo" means potato, and the word "tikki" means a small cutlet or croquette. This deep fried, crisp potato ball is stuffed with dal, peas, ragda and chilies. It is best served with loads of onions mounting on the top with curd, green chili chutney and tamarind-jaggery chutney. The hunger for it is not easily quashed.
Phew! With this ends the list of top ten lip smacking Indian street foods and wait, I guess, I am hungry enough, will go and try these on my own right away….
Written By: Palak Gupta