In India, formal wear for women is nothing but Saree. A saree is considered to be the finest and very traditional clothing throughout the world because it is basically a piece of cloth which alone can cover the entire body of a woman just by draping. This wonderful clothing had been originated in the north western part of India in the period of Indus Valley Civilisation. But still eastern sarees are famous worldwide. Now a days the pattern as well as the material of the sari has been changed a lot. The diversity of region, weather, and people in India has produced various styled sarees. The top 10 beautiful traditional saree styles are described below.
Top 10 Gorgeous Traditional Saree Styles
10. Mysore Silk Saree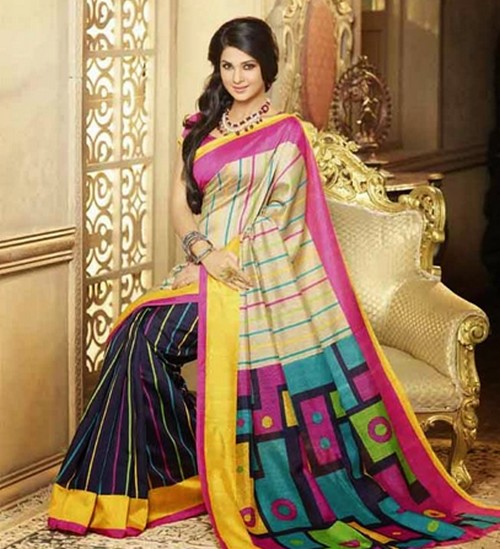 Mysore silk saree is a traditional saree which had originated in Karnataka. Raja of Mysore had initiated this culture. Typical Mysore Sarees has Zari work which is said to be 100% pure. These traditional sarees can be worn in any occasions such as, Mehandi Rasam, Pujas etc. Now days, Mysore silks are also available as office wear. That is actually not the traditional one. Traditional Mysore silk sarees a bit high priced. They are mostly available in a range of 3,000rs to 20,000rs. You can check it online with this website (typically sells Mysore silk).
9. Ikkat Silk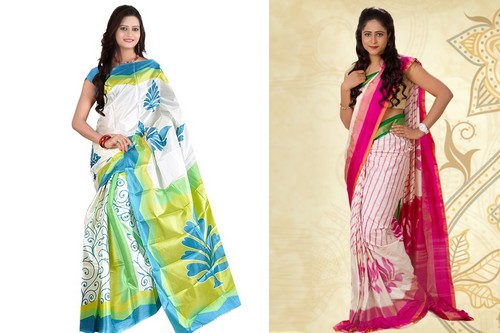 This one I love the most as it itself has a very sophisticated look. Ikkat sarees are so in fashion. Just a bit of jewellery with the saree can make one look perfect for every occasion. Ikkat sarees were originated in Bargarh, Odissa. Ikkat is actually the name of a dyeing technique. They range between 2000-10,000rs. Teachers prefer this silk saree the most as it gives proper comfort.
8. Tant saree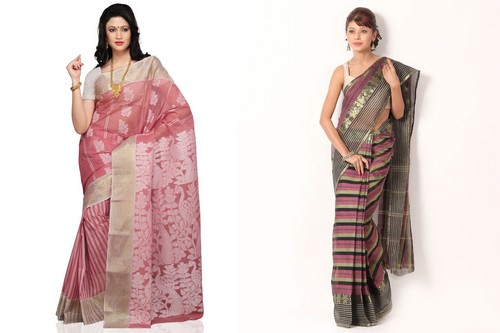 The name is derived from the word 'Tanti', means 'who weaves'. Tant sarees are very popular sarees in the eastern region of India. There are various types of Tant sarees can be found in market these days but the traditional one has a dotted pattern all over the saree, named 'Hazar-buti', and means 'thousands of polka dots'. They are originated in Bangladesh. You can find many of the Bengali beauties in bollywood wears Tant silk or Tant cotton sarees. They are comparatively reasonably priced. These saree are the ultimate option for eastern region women to carry on scorching heat of summer. Buy here.
7. Patola Saree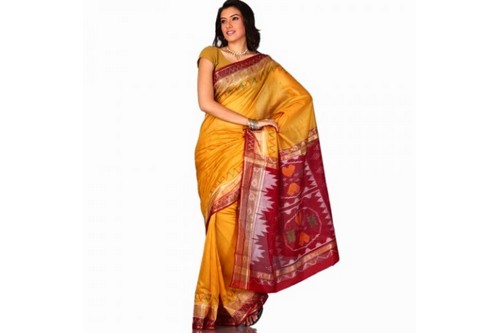 Patola silk sarees are originated in a small village named patan, Gujarat. The saree resembles with Ikkat silk. Only difference is, they are woven twice. Originally they are expensive and used to worn by royal ladie. They are worn usually in traditional occasions. They range around 10,000.
6. Tussar Sarees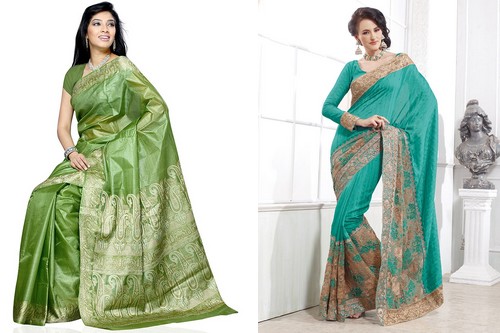 Tussar is a very traditional saree in eastern India. It has originated in Rajsahi, Bangladesh. Now days Tussar is produced at a huge rate in Malda district of West Bengal. Tussar is made by silk which is collected from natural source. Silk worms produce cocoons; cocoons are collected and left to boil to disintegrate the silk yarns. Due to its originality, Tussar is available in the market at a little high price but one would definitely want to afford it as it gives the perfect comfort as well as a very fine look. One can find Tussar silk sarees in the Folk Fairs. Tussar sarees need to be pampered to last long. They should not be packed in sealed plastics as the silk yarns need to breath. Most of the cases Tussar sarees do not last long because they are washed by hands. Washing with care as the dry cleaners do can make your dream saree look great and will last long. Buy online.
5. Dhakai Jamdani Sarees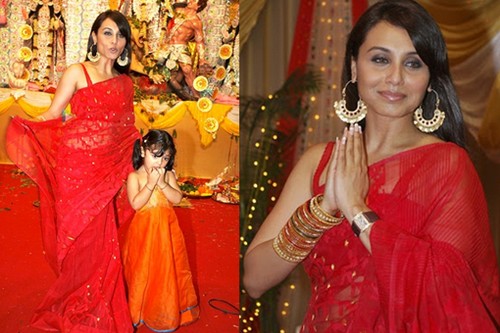 Jamdani is worn mostly by Bengali beauties in Pujas. A vibrant red coloured Jamdani with gold jewelleries and a bindi can make you look lavish. The name of this saree itself signifies the origin, Dhaka, Bangladesh. Dhakai Jamdani is reasonably priced and can be found all over the world. Bangladeshi brides use to wear it in their wedding day. So you can guess how pretty the saree will be. Jam means flowers that mean you will surely find floral motifs in it. The traditional art of weaving Jamdani has been declared by UNESCO as an Intangible Culture Heritage of Humanity. Buy Online Here.
4. Kanjivaram Sarees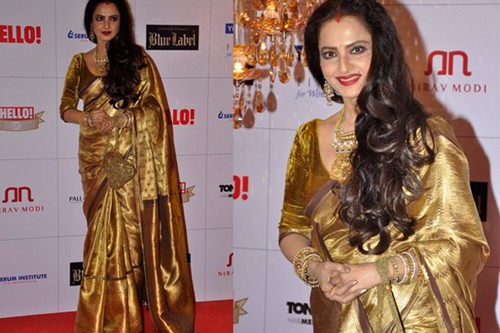 Kanjivaram sarees can also be called as Kanchipuram sarees. They are originated in Tamil Nadu. South Indian women use to wear it in traditional marriage ceremonies. Actress Rekha has spotted numerous times wearing this traditional attire. Kanchipuram sarees are typically high in price. A good one can be purchased at a price around 12,000rs but it can rise up to 100000rs (US$1,568). Buy online here.
3. Banarasi Saree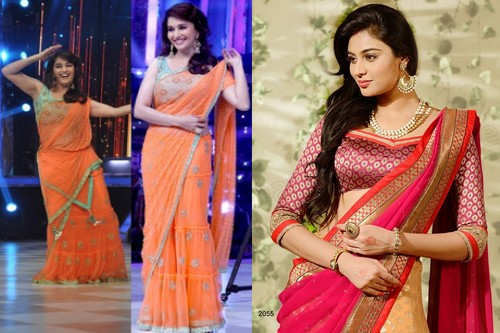 Banarasi sarees are all time favourite of every woman in India. 90% of Bengali brides wear this in their wedding. Banarasi sarees were, of course, found in Banaras or Varanasi. Heavy work of Zari and brocade works makes the saree the king of all traditional sarees. There are 4 main varieties of Banarasi saree, Pure Silk, Organza, Shattir and Georgette. Tissue Banarasi is also popular these days. Banarasi sarees are available all over the world. I have found Banarasi sarees are the most expensive saree amongst the others. Buy online here.
2. Chanderi Silk Saree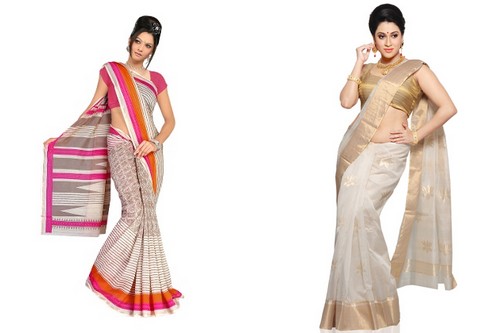 It is made in Chanderi, Madhya Pradesh, India. It is the Mughals who promoted Chanderi art to the highest peak. Chanderi sarees are very popular these days. These sarees can be worn in parties, traditional festivals etc. They are little heavy than the others because they have traditional coin, peacock, floral patterns woven in it. Time to time this art is changing its form. Bollywood celebs are often spotted wearing Chanderi art silks. They are bit pricey as they are in fashion.
1. Bhagalpuri Silk Saree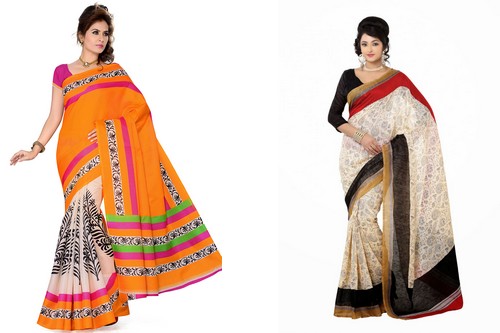 I have found this traditional saree is the best for regular wear as well as for party purpose. This is not at all heavy so anyone can carry it flawlessly. My mother has purchased a lot of this to wear at work. Trust me; if you want to go casual along with a sophisticated look, go for it, it is the best for this purpose. Bhagalpuri silk had originated in Bhagalpur. The best site for buying bhagalpuri silks is yellowfashion.in.
List Created By: Pritha Ghosh