Aishwarya Rai Bachchan is always being praised for her appearances at Cannes International Film Festival. She has been attending the prestigious Film Festival since 2002. It has been 14 years and still she is walking bravely on the red carpet of Cannes. Photographers literally wait throughout the year to capture Aishwarya Rai Bachchan into their Camera when she poses on the red carpet. Her appearance at Cannes Film Festival makes every Indian including the Bollywood Industry proud. Here are the 10 most beautiful appearances of Aishwarya Rai at Cannes International Film Festival.
10. Aishwarya in 2013 Cannes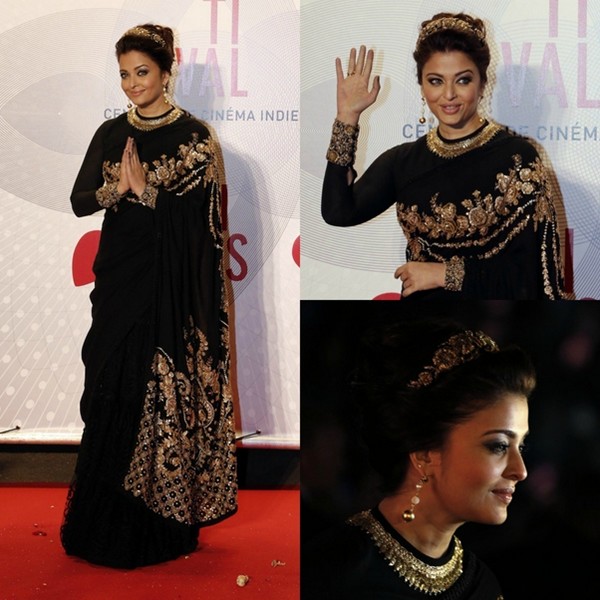 Aishwarya Rai Bachchan wore a Sabyasachi Black and Golden Saree for the evening gala at Cannes Film Festival 2013 to celebrate 100years of Indian Cinema and Bombay Talkies. She also wore a golden Tiara and that exceptionally enhanced the traditional yet modern look.
9. Aishwarya in 2006 Cannes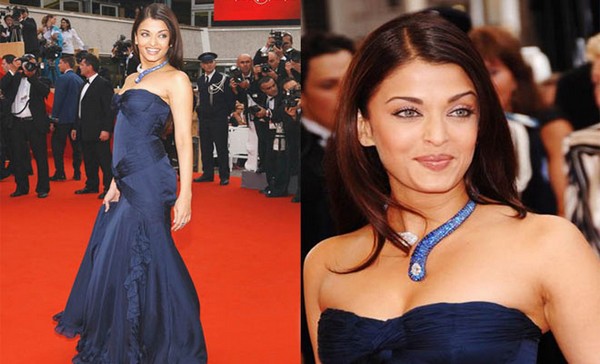 Aishwarya Rai Bachchan fluently walked on the red carpet caring a navy blue or you can call it a midnight blue strapless gown. Her snake-inspired neckpiece made a hue those days.
8. Aishwarya Rai at Cannes 2015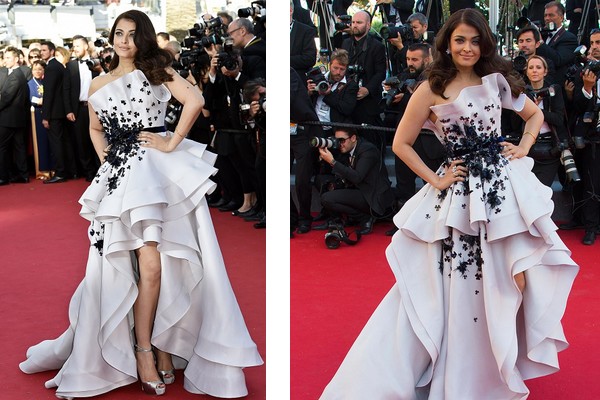 Aishwarya Rai's figure was swamped by the Ralph & Russo gown at the Cannes Film in the year 2015. The gown had beautiful folds and pretty black floral sprinklings around the waist. It had a waist band too. The monochrome gown was balanced by her dark lip colour shade. She coupled the dress with sleek silver stilettos.
7. Aishwarya in 2007 Cannes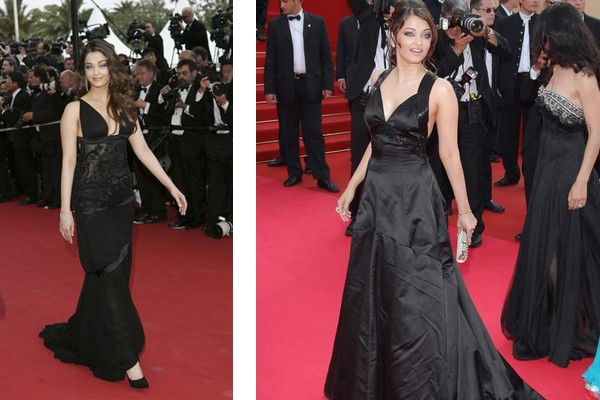 It was the year when Aishwarya tied the knot to Abhishek Bachchan. She came along with her husband and walked on the red carpet. She wore a beautiful black gown. The gown was from GUCCI which had a plunging neck. The embellished sheer gown was a truly great choice for the prestigious festival. She wore white stoned jewelleries to make it a perfect look. It was in the year 2007 and the event was 60th Cannes International Film Festival.
6. Aishwarya in 2015 Cannes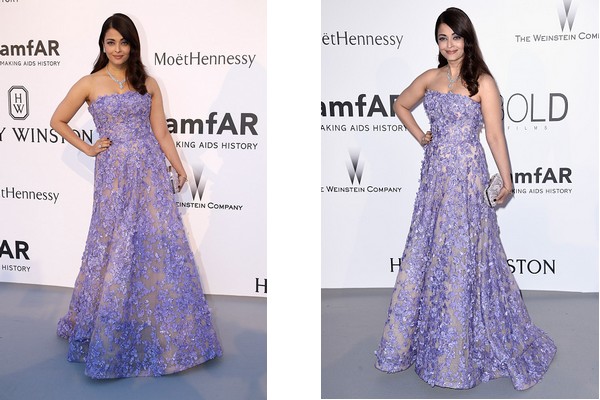 Aishwarya chose to wear this dress to attend the grand amfAR Gala. The gorgeous strapless Elie Saab evening gown in Lilac added a cherry at the top. She added matching eye shadow to the hue of her dress and had her hair styled in sweeping waves. Sleek looking Diamond jewellery had complimented the whole look perfectly.
5. Aishwarya Rai at Cannes 2011

She again spell bounded us when she wore Elie Saab one shoulder embroidered off white gown. Nude coloured Peplum styled gown had enhanced her beauty. The beauty got overpowered through the Jimmy Choo Cosma clutch and Chopard jewellery.
4. Aishwarya Rai at Cannes 2010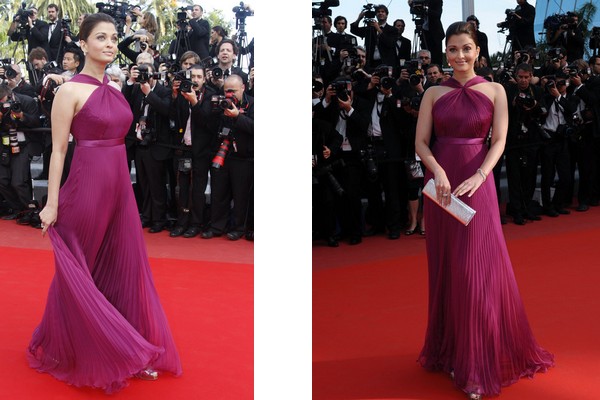 This one is my favourite. She wore this in 2010, 63rd Cannes Film Festival. She wore a one-of-a-kind GUCCI magenta pleated chiffon twisted halter neck gown with open back and full floor length skirt. She was joined on the red carpet by her mother Vrinda Rai.
3. Aishwarya in 2012 Cannes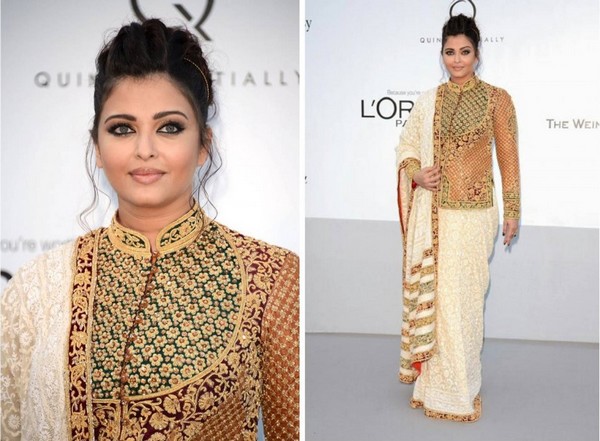 Mrs Bachchan decided to wear a Saree in 2012 Cannes. The actress had come under considerable criticism over weight gain post her pregnancy and in reply she turned up looking quite beautiful in traditional attire. Gold embroidered Sabyasachi saree and co-ordinated tailored jacket with Mandarin Collar made the headline in the World of Fashion and Entertainment. She pulled her hair up in a bun but left a few strands loose to add a slight chaos to an otherwise chic hairdo. Smoked eye make-up was also justified with the look.
2. Aishwarya in 2010 Cannes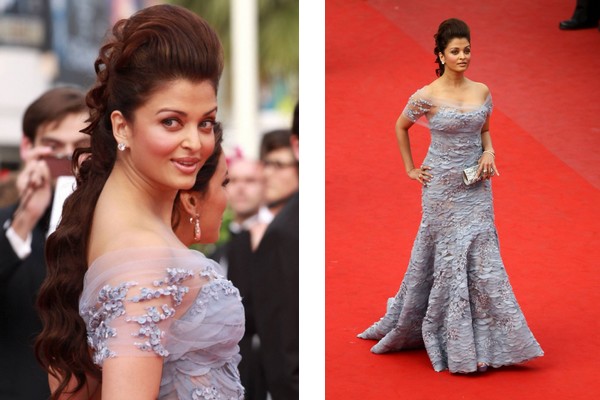 On 2010, Elie Saab had become her favourite designer and she wore a mermaid gown from Saab-store which had a train and sheer shoulder style. The gown had a fish-scale effect all over it. Another eye catching thing was her tricky hairstyle which was really well made and complimented her dress beautifully.
1. Aishwarya Rai at Cannes 2014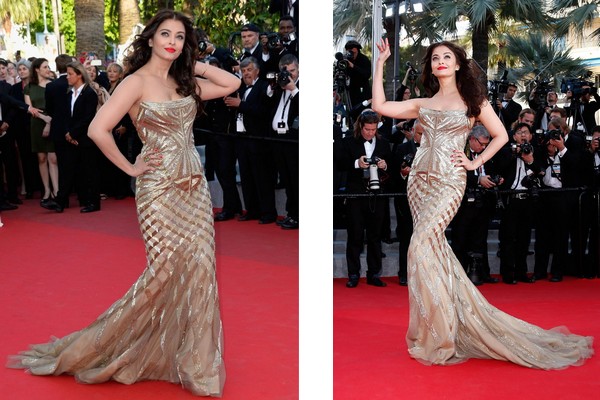 The actress chose to wear a dazzling gold strapless atelier mermaid cut gown by Roberto Cavalli that showed off her curves like anything. 67th edition of Cannes Film Festival eye witnessed Aishwarya in a gown which was previously worn by Kristin Chenoweth at Oscars 2014. Many people called her Copy Cat but the gown seemed to be truly made for her because it just suited her like lock and key.
List Created By: Pritha Ghosh