Here, below is a list of 10 Best Female Soccer Players.
Football has been the top thing for a while now. But this interesting and addicting sports does not limit it's facilities to only males, but also their counterparts get the opportunity to play the sports at international level. Soccer or football has advanced a lot over the years and has been giving chances to not only males but also females to represent their respective countries and play at international level. Football for females is exactly like it is for males.
The rules and policies are same. In the modern era, women are thought to be equal to men. This means that whatever men can do good, women can do better. Female football games are no less than men. You get to see not only amazing goals and skills but also sportsmen ship and great examples of teamwork.
Football for females has also advanced a lot over the years and women not only get to play internationally but also at club level and are treated equally. Over the years, many big soccer leagues have started for women and have been giving these talented women great chances to do something for their passion and peruse their dreams.
See also; Top 10 Most Beautiful Women Football Players.
Football has been the hot and big thing in the recent years and there is no gender restriction. Women can play and watch football. However, professional female footballers play no less than men. Today, we bring you the top ten best female soccer or football players. These players have worked day and night to achieve their goals and dreams and after years and years of training, they have qualified for the job.
These female footballers have never let their team down and have done everything in their power to win the game for their team. These players have won the hearts of many over the year by their honesty, bravery and dedication to the sport. These women are a source of inspiration for all and have motivated and inspired millions around the globe.
Top Ten Best Female Soccer Players
Christine Sinclair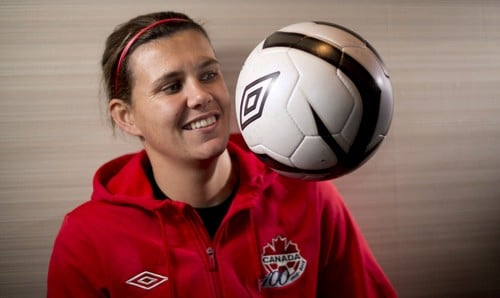 Starting with the best, Christine Sinclair plays for Canada and Portland Thorns. She is the heart of Canada's international team. Age is just a number for Christine. Even though she is 33, she is still performing at her best and is leading her team to numerous victories. Christine has been declared the world's best female soccer players for a lot of time. She is a deadly player and has no mercy on her opponents.
Megan Rapinoe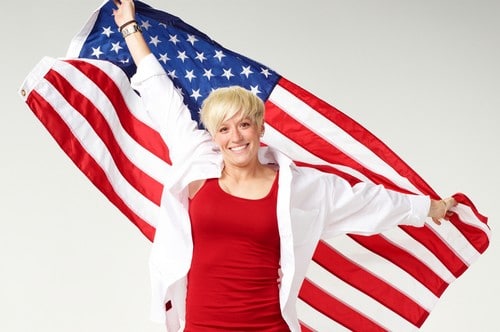 Megan Rapinoe is one of the most deadliest players around. She plays for the United States national team and Seattle Reign fc. Megan Rapinoe is feared by her opposition. There is just no stopping her! She might be aging but she is still one of the best footballers around. Megain Rapinoe is the soul of her team and has lead her team to victory a couple of times.
Carli Lloyd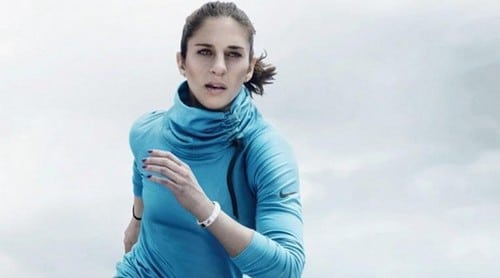 Lloyd is considered the best female football player by many. She is very dangerous and extremely well on the ball. Carli plays for United States and Houston Dash at club level. Carli Lloyd is one of the main reasons why United States won the world cup. She, herself has won many individual awards and is hungry for me.
Marta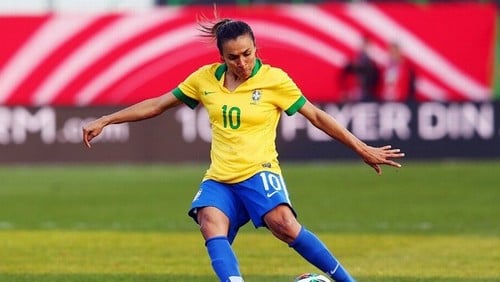 Marta Viera Da Silva or commonly known as Marta is the teammate of Lotta. She also plays for Brazil and FC Rosengard. Marta is known as the 'Maestro'. She has unbelieveable skills that will drop your jaw open. She is one of the best around. Marta has a dead eye for the goal and has rescued her team many times. She is the one of the greatest ever! Period.
Lotta Schelin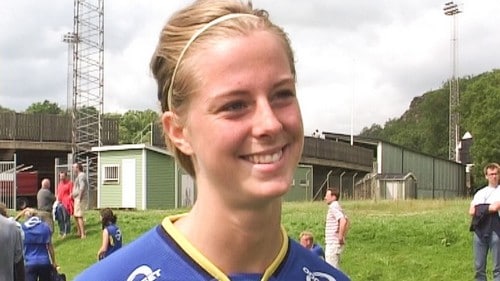 Lotta Schelin plays for Sweden at international level and Fc Rosengard at club level. She is a quite fine footballer and has performed extremely well for not only her national team but also international. Lotta is fast on the ball and leaves the opponents on their knees! She is one of the best footballers currently playing.
Alex Morgan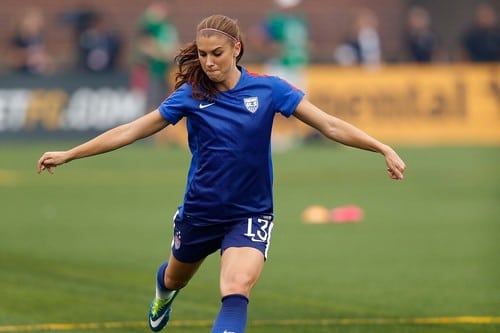 The great Alex Morgan! What words can we find to describe this perfection. She plays as a forward for United States and Olympique Lyonnais. Alex Morgan won her team the world cup. She is an integral part of the team and has saved them for humiliation and rescued them from defeats several times. Alex has won numerous individual awards and is looking forward for more.
See also; Top 10 Hottest Female American Athletes.
Hope Solo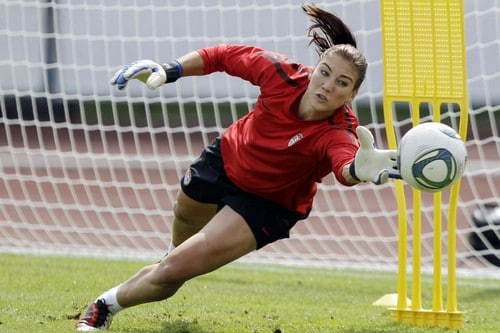 Hope solo is one of the best goalkeepers around. She plays for Seattle Reign FC and United States is her national team. Hope Solo is the pride of her nation. She has won them many matches. Solo is a hero for her club as well. She has a lot of times saved them from defeats. Scoring against Hope Solo is very difficult. She also has a strong physique.
Kim Little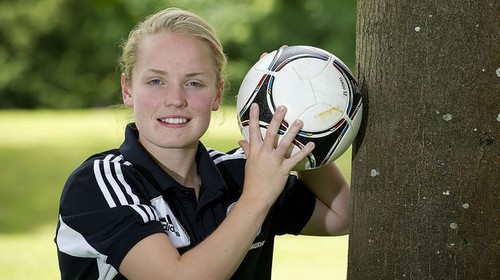 Kim Alison Little, commonly known as just Kim Little plays for Scotland and Arsenal. Kim Little is a very creative footballer. She keeps the game balanced. Also, Kim is the leading scorer for Scotland and she has won a lot of individual awards. Kim continues to stun the world with her oustanding playing.
Amandine Henry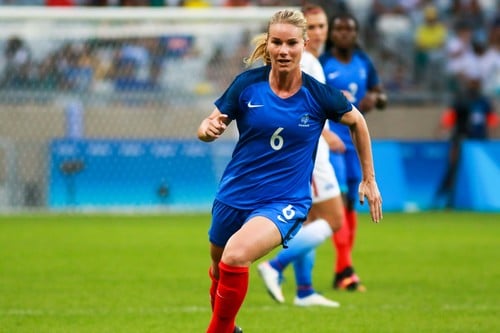 This french footballer plays for Portland Thorns. She is said to be one of the greatest footballers around due to her consistent great performances. Amandine has shock the world with her unbelievable footballing skills. She also has a good ball control. Amandine is the heart of her team and has helped her team a lot of time. She might just be the best defensive midfielder playing!
Dzsenifer Marozsán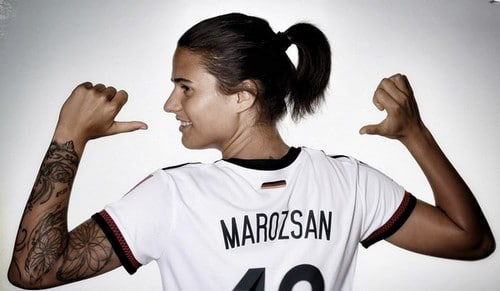 The youngest and one of the best female soccer players. The German Dzsenifer Marozsán plays for the 1. FFC Frankfurt. She is the youngest goalkeeper at the age of 15, also youngest soccer player in the Bundesliga.