The origins of bodybuilding dates back over 100 years but for the most part, initially it was a man's sport. Joining male bodybuilders, women gradually started to take part in bodybuilding competitions in the 1970s and the sport has flourished ever since. The hottest female bodybuilders aren't just really pretty women, they are also some of the most fit women in the world. Female bodybuilders spend countless hours working on their figures and it shows. While some do it just for the satisfaction of being fit, others make a living from bodybuilding competitions, product endorsements and modeling. Being an attractive bodybuilder, like these babes, certainly pays off.
The top 10 hottest female bodybuilders:
10. Soleivi Hernandez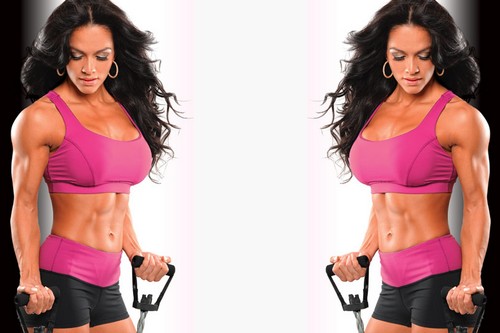 The Soleivi Hernandez is an amateur figure competitor recognized by the National Physique Committee (NPC). Hernandez started weight training at age 22. She began competing in 2006, with the goal of becoming a figure professional. She finished second in her first NPC show, the John Sherman Classic, and followed that up with an overall victory in the 2007 NPC New York Metropolitan. Afterward, Hernandez focused on securing her professional card. Her third show was the NPC Team USA Figure Nationals in 2007, where she did not place high enough to receive it.
9. Debi Laszewski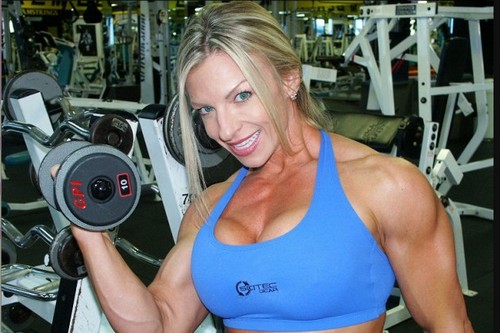 The professional American female bodybuilder, personal trainer and model, Debi Laszewski. She currently lives in Jupiter, Florida. She ranks as the 3rd best female bodybuilder in the IFBB Pro Women's Bodybuilding Ranking List. In 2012, she improved her standing to 2nd place in the Ms. Olympia contest. She is an official sponsored athlete of Ironville Clothing Company, which sells bodybuilding-themed sportswear.
8. Jen Hendershott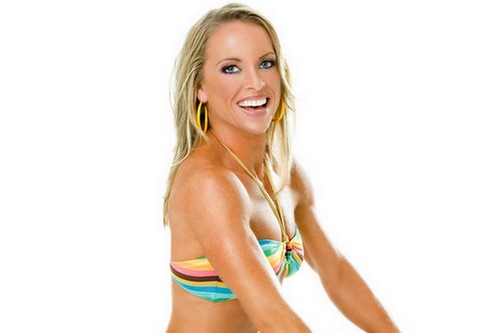 Jenny Hendershott is a professional fitness competitor from the United States. In the fitness industry she is well known for her inventive and highly difficult gymnastic routines as well as running her special phat camps all year round where she helps women get serious about their diet, exercise and overall health. Her highest achievement to date has been winning the 2005 Fitness International and 2005 Fitness Olympia events.
7. Nicole Wilkins-Lee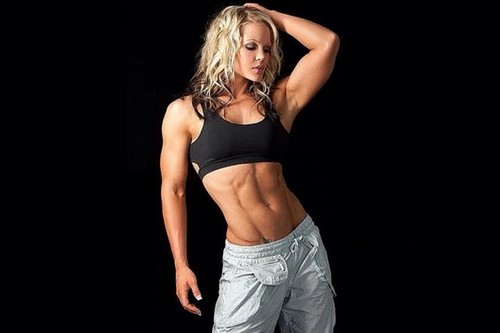 At No. 7 in our list, the beautiful Nicole. Nicole Wilkins is an IFBB professional figure and fitness competitor, and a gym owner. From 2007 to 2013, sh participated in more than 24 IFBB Contests.
6. Larissa Reis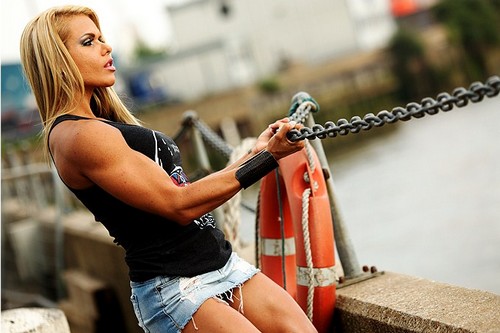 At no. 6 in our list is Larissa Almeida Reis. She is a Brazilian International Federation of BodyBuilders (IFBB) professional figure competitor and owner of a Las Vegas, Nevada restaurant. While a college student, Reis modeled part-time and her body caught the attention of Playboy Brazil; in 2003 she was chosen to be a playmate. Reis was signed by a supplement company after that and while working with them as a fitness model, she got the desire to compete as a figure athlete.
5. Cory Everson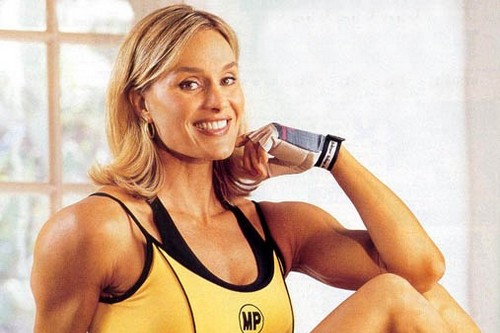 Corinna Cory Everson is an American female bodybuilding champion and actress. She won the Ms. Olympia contest six years in a row from 1984 to 1989. In January 1999, Everson was inducted into the IFBB Hall of Fame, as part of the inaugural group. She was inducted into the Muscle Beach Venice Body Building Hall of Fame on September 5, 2005. At the 2007 Arnold Classic she became the first woman to be presented with the Lifetime Achievement Award. In 2008, Everson was inducted into the National Fitness Hall of Fame. After retiring from competition, Everson began acting. Her major movie appearance were in Double Impact (1991), Natural Born Killers (1994) and in Ballistic (1995).
4. Oksana Grishina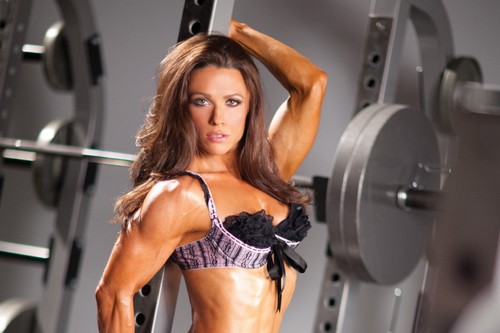 At no. 4 is Oksana Grishina. She is a Russian former gymnast and current professional fitness competitor. She was born in Kaliningrad and grew up both in Latvia and Russia. She earned a degree in 2000 from the University of Kalingrad as a specialist in Physical Training and Sports. Grishina won both European and World overall championships titles, while competing as amateur. She earned her IFBB Pro Card in 2007. She is the second ever Russian athlete to earn an IFBB Fitness Pro card.
3. Brooke Holladay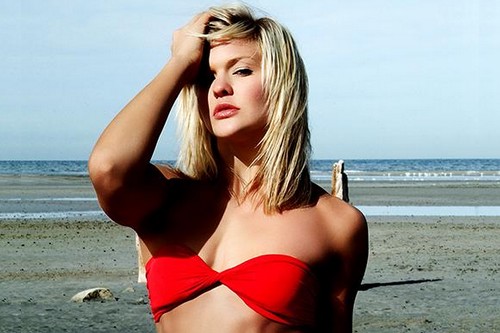 The stunning Brooke Holladay from Salt Lake City, Utah, US, is one of the top 10 hottest female bodybuilders.
"I am a fully trained dancer with some modeling background. I am into fitness and i have WON 2 FIGURE/FITNESS COMPETITIONS. I'm here to make new contacts and get my face out there. I'm energetic and love throwing energy back and forth with my photographers.
2. Jennifer Rish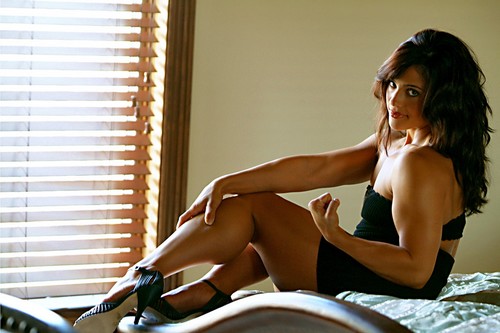 The most beautiful woman in the world. Jennifer Rish is the hottest fitness model from Southern California. She started competing in 2008. She did 2 figure competitions, one bikini, and one fitness.
"When I was growing up my parents were very active and healthy eaters. I started taking dance and gymnastics when I was four. Then I started going to the gym with my dad as a 15 year old to spend more time with him and realized I really enjoyed working out and how great it made me feel. I've been eating healthy and working out for so long now that it has become an engrained part of my lifestyle. I am also a registered nurse and the benefits of a healthy lifestyle are too hard to ignore!"
1. Sharon Bruneau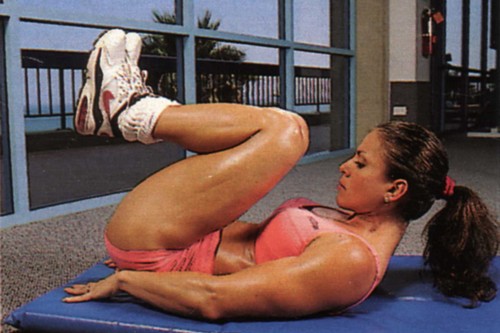 Though the female bodybuilder physique might not be for everyone, there is definitely no shortage of babes in the sport. Sharon Bruneau for instance was one of the first to bring out the beauty of the sport as the Canadian bodybuilder used her modeling background to give the sport a bit of sex appeal.
She began her career as a fashion model, at which she was successful until contracting a bad case of pneumonia, which caused her to lose a lot of weight. Soon after her recovery, she began training with weights to regain the weight she needed to get back to modeling. After achieving a somewhat toned build, she was rejected at model agencies for being oversized. She then decided to give up modeling and dedicate herself to bodybuilding.