Grammy Awards or the Gramophone Awards is the most prestigious music award in the world. It was first awarded in 1959 and has so far completed 56 editions with the 57th Grammy Award slated to take place on 8th February, 2015 at Staples Center, Los Angeles, California, U.S. Throughout its history, it has set several records. As of February 2009, 7,578 Grammy trophies had been awarded. So, let's take a look into 10 facts about Grammy Awards you probably didn't knew.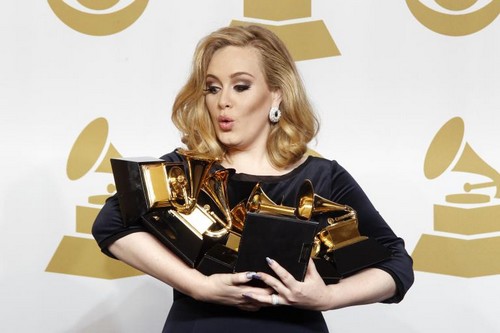 10 Interesting Facts About Grammy Awards:
10. Most Grammys Won By A Producer
Listeners often give the entire credit for the success of a song to the artist, but what needs to remembered, is the fact that so many producers work very hard, to make this songs available to the public. Thus, they act as a bridge between artists and audience. The record for most Grammys won by a producer is held by Quincy Jones with 27 Grammy, who is followed by Kanye West and David Foster at number 2 and number 3 positions with 21 Grammys and 16 Grammys respectively.
9. Most Grammys Won By A Solo Artist
The record for most Grammys won by is held by Sir Georg Solti with 31 awards, who is followed by Quincy Jones and Allsion Krauss at number 2 position, both with 27 Grammy. They are followed by Pierre Boulez with 26 Grammys, Vladimir Horowitz with 25 Grammys, Stevie Wonder with 22 Grammys, Kanye West and John Williams, both with 21 Grammys. Just one Grammy shy from them with 20 Grammys are Bruce Springsteen, Chick Corea, Vince Gill, Henry Mancini, Pat Metheny and Al Schmitt.
8. Most Grammy Nominations Without A Win
This is rather an unfortunate category, to which probably no one want to be a part of. The record for most Grammy nominations without a win is held by Snoop Dogg and Brian McKnight with 16 nominations each. They are closely followed by Joe Satriani with 15 nominations. He is followed by Martina McBride with 14 nominations and Björk and Nas, each with 13 nominations.
7. Youngest & Oldest Winner
The Peasall sisters are the youngest Grammy winners. Leah Peasall won at the age of 7 years, Hannah Peasall won at the age of 9 years and Sarah Peasall won at the age of 13 years. They achieved this feat in 2002. Taylor Swift holds the record for being the youngest person to win Album Of The Year Award at the age of 20 years and 49 days. She did this 2010.The oldest person to win a Grammy is Pinetop Perkins, who won at the age of 97 years and 221 days. He did this in the year 2011. Few days after the award, he however bid adieu to the world.
6. Most Grammy Wins In A Single Night
In 1984, Michael Jackson created history by winning the most number of Grammys in a single night with 8 Grammys. In 2000, Santana, also achieved the same feat. They are followed by Roger Miller (1966), Quincy Jones (1991), Eric Clapton (1993), Beyoncé (2010) and Adele (2012), each of whom won 6 Grammys in a single night.
You May also Like:
10 Actresses Robbed of Their Oscar Win.
10 Actors Robbed of Their Oscar Win.
10 Cutest Couples At The Oscars.
10 Greatest Albums By Solo Artists.
10 Celebrity Deaths During Shooting.
5. Most Grammy Won By A Group
The record for most Grammys won by a group is currently held by U2 with 22 Grammys. They are followed by Alison Krauss and Union Station with 14 Grammys at number 2 and Dixie Chicks with 13 Grammys at number 3. At number 4 is Foo Fighters with 11 Grammys and at number 5 is Pat Metheny Group with 10 Grammys.
4. Most Album Of The Year Wins
The record for winning the most number of Grammys for the category of Album Of The Year is currently held by six people each with 3 Album O The Year Awards. The six people along with the year in which they won their third award are Frank Sinatra (1967), Stevie Wonder (1977), Paul Simon (1987), David Foster (1997), Phil Ramone (2005 and Daniel Lanois (2006).
3. Artists With Wins In Big Four Category
Till date, this feat has been achieved b only two artists. The big four categories are Song Of The Year, Album Of The Year, Record Of The Year and Best New Artist. In 1981, Christopher Cross won Grammys in all the four categories.  Adele is the second artist to win all four. In 2009 she won Best New Artist and three years later in 2012 she won Record, Album and Song of the Year.
2. Most Grammys Won By An Album
'How to Dismantle an Atomic Bomb' by U2 and 'Supernatural' by Santana both won 9 Grammy and jointly hold the record for most Grammys won by an album. They are followed by 'Thriller' by Michael Jackson, 'Genius Loves Company' by Ray Charles and by 'Come Away With Me' Norah Jones with 8 wins.
1. Most Grammy Wins By An Engineer Or Mixer
We often tend to overlook the technicians, but the fact is that without these people, we can't even think of listening to the songs that we listen to. The record for most number of Grammys won by an engineer or mixer is currently held by Al Schmitt with 23 Grammys.