Internet has become an erstwhile utility in the current modern age. With just a swipe of your finger, you can get the know-how of any nation out there. That's what the world has become as of today, a global village. Seems funny, ain't that?
Sitting back with a computer on and typing your way into the internet may seem quite easy as it gets, but there's lot more to the picture than this. Quite often one gets fed up of the slow browsing net or someone gets quite aesthetic of the lighting fast internet. That how internet can be. A supreme way to garner things mankind had never access to or an eternal wait for the page to load and the video to stop buffering.
We give you a rundown on the 10 nations with the fastest internet speeds. Read along.
10. Finland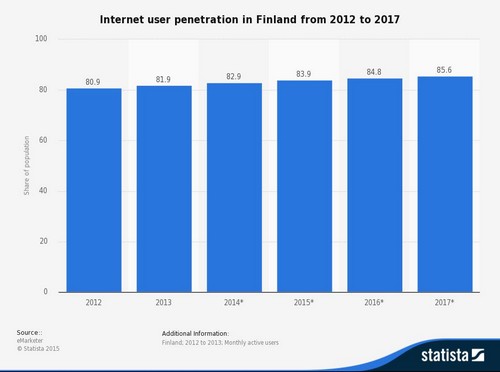 Finland, a nation home to the coastal islands in the Baltic Sea, is one of the fastest growing economies in the world. With such a rapid economic growth on the cards, the internet service is bound to on top of the agenda.
As a matter of fact, Finland is the first nation in the world to legalize the rights to internet access. It shows their intent, doesn't it?
Finland boats of about 12.1 Mbps internet bandwidth speed on an average. As the aforementioned picture suggests, it has an 85.6% internet penetration rate.
Finland starts off our countdown of top 10 by safeguarding its position in the list.
9. Czech Republic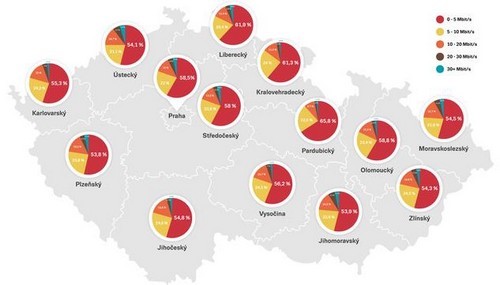 Czech Republic apart from its fast internet services is also quite known for its history and monuments. The major share of the internet market is with the private sectors in this Central European nation.
Its internet subscribers are increasing day in day out with facilities of different speeds and cost. Czech Republic has an advanced high-income economy which explains the reasons for such swift development of internet.
The average internet speed in Czech Republic was clocked at 12.3 Mbps with annual penetration rate of 77.48%. That's one hell of a speed.
8. Ireland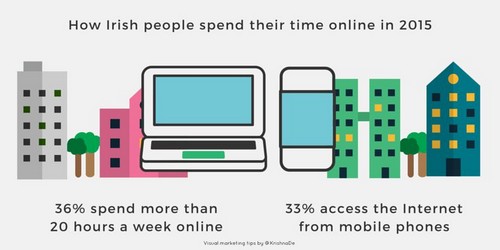 A nation often nicknamed 'Emerald Isle' for its lush and green landscape makes its entry at number 8 in our list. Internet is a pretty important part of Irish economy with more than 81% penetration rate among the population.
The internet service in Ireland has an average speed of 12.7 Mbps which makes it an important contributor to the education of the country.
Ireland is making rounds in the world for its fast internet rather than just for its greenery and castles.
7. Latvia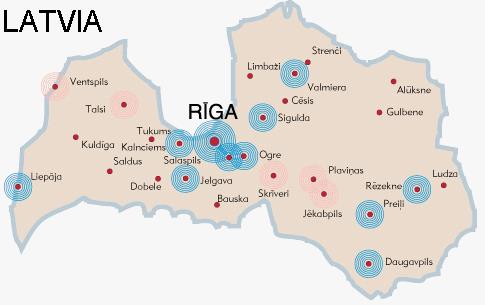 Another of the nation, home to the Baltic Sea region, Latvia boasts of considerable architecture and dense landscape. Latvia is a pretty good place to live about or start a work upon. With small region and government backing, the internet service has reached further heights in the last few years.
Latvia records its internet speed at an average of 13 Mbps and makes a part of our list at number 7. It has a penetration rate of 76% of the population. A perfect little nation for the interne users.
6. Netherlands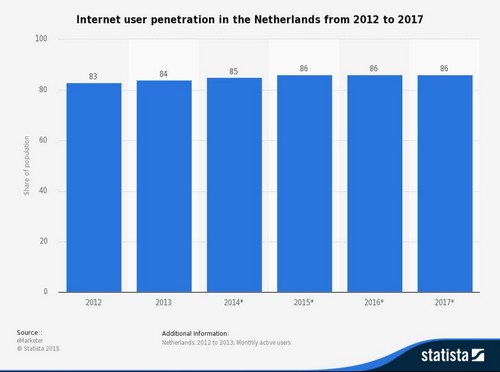 The Dutch nation makes it entry at six in our list of 10 nations with fastest internet service. A part of Northwestern Europe, Netherlands boasts of great artistry work from its golden generation apart from the flamboyant landscapes and architecture.
The swift growth of internet in Netherlands can be credited to the all-in-one packages where the utility features like internet, telephone and television are billed within. The most preferred internet service is through cable in this region.
The internet speed was clocked at a speed of 14.2 Mbps on an average. The penetration ratio as showcased in the above diagram is 86% of the available population.
5. Switzerland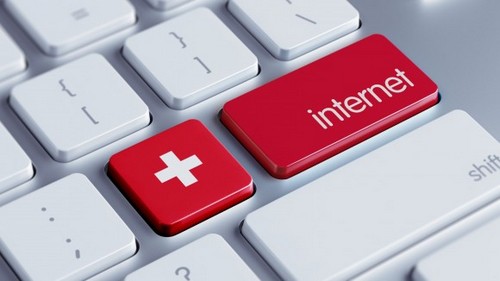 It's time for the beautiful mountainous country on our list at number five. Switzerland has always been known for its natural telepathic beauty alongside the chocolates and knifes. Ah, not to forget the Swiss watches. Pretty remarkable, aren't they?
With one of the highest penetration rates among the European nation at 88%, people are really fond of internet in this alp nation. Switzerland's average internet speed clocks around 14.5 Mbps.
With such lavish internet options available, Switzerland had rightly become the major hub of financial industry.
4. Sweden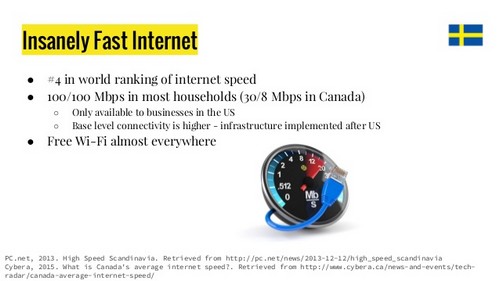 It's time we integrate some Scandinavian nation into our list of nations with fast internet service. Sweden boasts of insanely fast internet service at pretty cheap rates. That's something every citizen would dream of.
Sweden apart from it palaces, musuems and open-air Skansen, has optimum reach of internet facilities all over their nation. They have a penetration ratio of 89% among the population. Pair it with the internet speeds of 14.6 Mbps on an average, you'll get something very remarkable.
3. Japan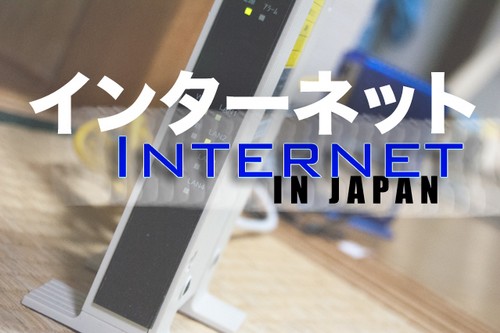 Time for some Asian delight. Japan has always been known for its perfection in electronics range. Well, add to that list these telecommunication services, which are rightly lauded as one of the top priorities of the nation.
Having recognized its potential in the mid-1990, the government effectively planned for the swift growth of internet in the nation. The internet is served through high-speed optic fibers.
Japan has the internet service ranging at an average speed of 15.2 Mbps with penetration rates of 86%.
With such qualities it perfectly sits atop above other nations and starts our countdown of final top 3 nations.
2. Hong Kong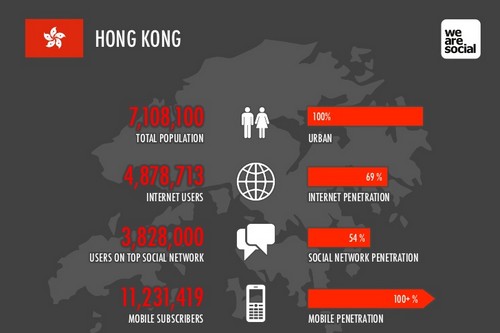 An autonomous region of China, this business hub of the world is home to the very best of internet service providers that provide insanely fast service. It's a global financial center and has quite a dense population.
Honk Kong is ranked as nation of second fastest internet service in the world by clocking speed at an average of 16.8 Mbps. Its penetration ratio is around 69% as of 2011's data but has substantially increased over the years. It now has a penetration ratio of 79% out of total population.
1. South Korea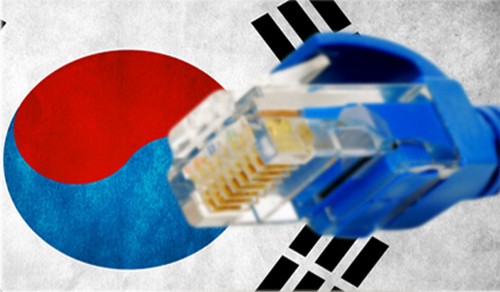 Time for the clear shot winner of our list, South Korea. A nation hat is intrigued upon online gaming obviously need to have the very best of internet services.
South Korea has banked on affordability alongside the fast speeds on the internet. So you won't have to shell big bucks when opting for internet service in the country.
South Korea clocks internet speed of 22.2 Mbps on an average with penetration rates of 92% out of total population. That's too extreme to be fair. It has the world highest reach among the population.
10 Countries with Fastest Internet Speeds
South Korea
Hong Kong
Japan
Sweden
Switzerland
Netherlands
Latvia
Ireland
Czech Republic
Finland
Author- Vivek Yadav