We will see today the aging timeline of popular American Actress and one of the most beautiful women in the world: Angelina Jolie.
Angelina Jolie Voight, better known as Angelina Jolie, was born on Wednesday, June 4, 1975. She is a famous American actress known worldwide not only for her acting but also for her humanitarian work. So far, she has won one Oscar, 3 Golden Globe awards and 2 Screen Actors Guild awards. Angelina is also the former Goodwill Ambassador of UNHCR. She has been awarded by the UN Correspondents Association with "Citizen of the World Award". She is also the recipient of "Global Humanitarian Award" awarded by UNA-USA in 2005.
Angelina Jolie in 1975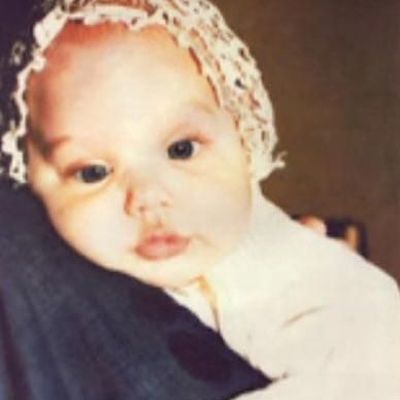 Angelina Jolie Voight was born in Los Angeles, California (USA). She is the daughter of actors Jon Voight and Marcheline Bertrand. She is the sister of actor James Haven, niece of singer-songwriter Chip Taylor, and goddaughter of actors Jacqueline Bisset and Maximilian Schell. On her father's side, Jolie is of German and Slovak descent, and on her mother's side, she is of primarily French Canadian, Dutch, and German ancestry.
Jolie in 1977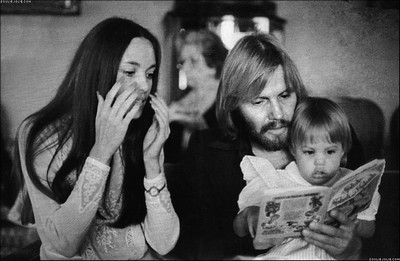 Angelina at the age of 6 (1981)

Angelina at the age of seven in 1983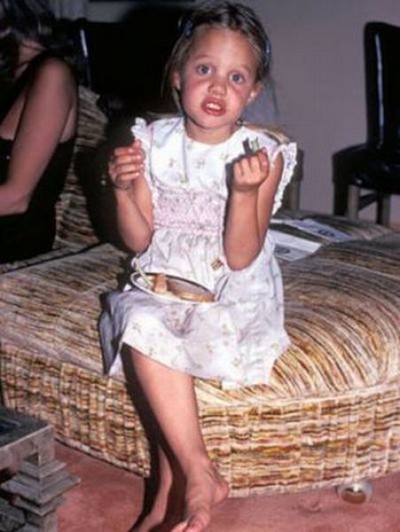 When she was seven years old, Jolie had a small part in Lookin' to Get Out (1982), a movie co-written by and starring her father, Jon Voight.
Angelina in 1988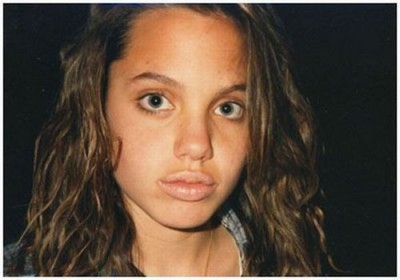 As fashion model at the age of 15 (1990)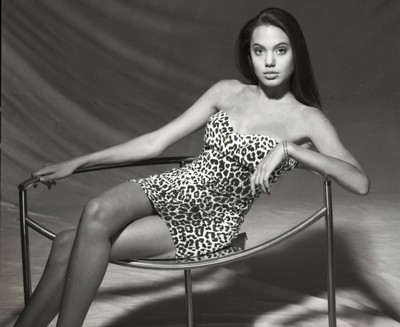 Angelina in 1991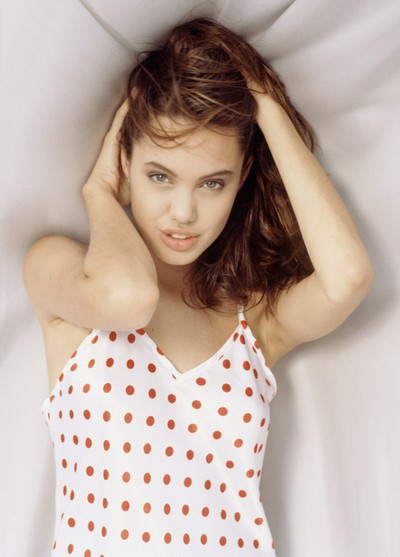 Angelina as a cyborg female in CYBORG 2 (1993)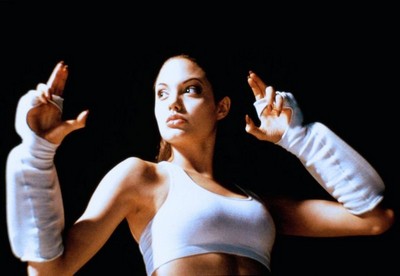 In 1993, Angelina started her actress career playing the role of Casella Reese a cyborg woman, in a small budget science fiction movie called Cyborg 2.
Angelina in 1994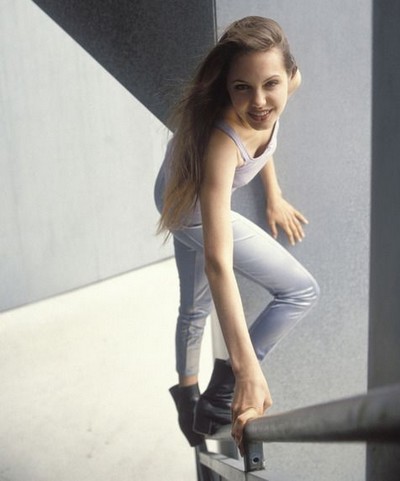 In 1994 she was 19 years old and not yet famous. But she was very cute.
HACKERS and her first husband 1995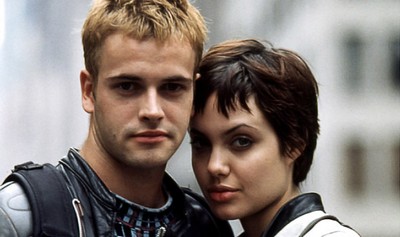 In 1995, she starred in Hackers a female computer hacker, directed by Iain Softley, her co-star was Jonny Lee Miller. The film shooting was the opportunity for Angelina to meet and then married his first husband Jonny Lee Miller on March 1996, they lived together for 18 months, and officially divorced on February 1999.
Angelina in Mojave Moon in 1996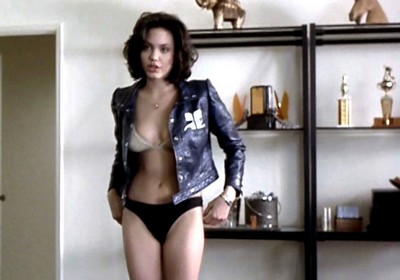 in 1996, she was casted for a main character in the movie Love Is All There Is , a comedy telling the story of two Italian rival family in the Bronx. And the very same year she appeared in Mojave Moon a road movie directed by Kevin Dowling, the motto being "A Roadtrip, a Romance and a Not-So-Dead body, starring in addition to Angelina, Danny Aillo and Anne Archer.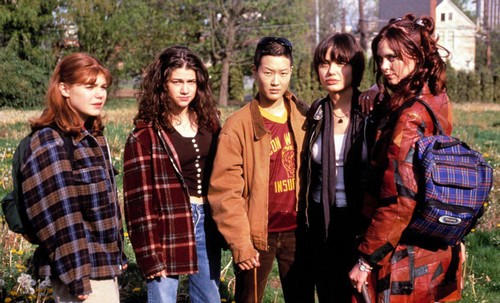 Angelina in 1997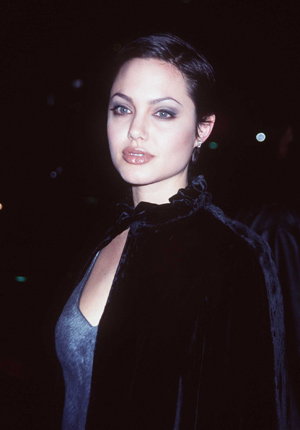 In 1997 she appears in the Hollywood thriller movie Playing Good, with David Duchovny, then she starred in the TV film True Women.
Hot Angelina Jolie in 1998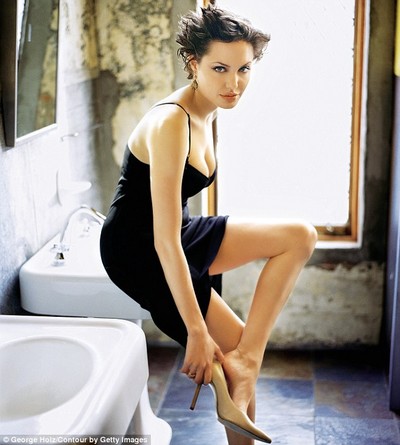 In 1998, Jolie won a Golden Globe Award for her performance in TNT's George Wallace, and an Emmy Award nomination. She starred in HBO's Gia, portraying supermodel Gia Carangi, for which she won her first Screen Actors Guild Award.
Angelina in 1999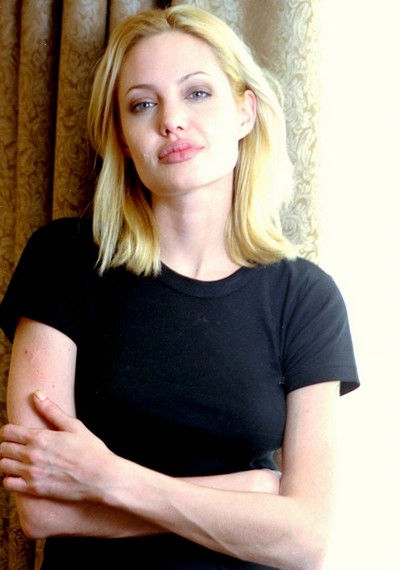 Beautiful Jolie in 2000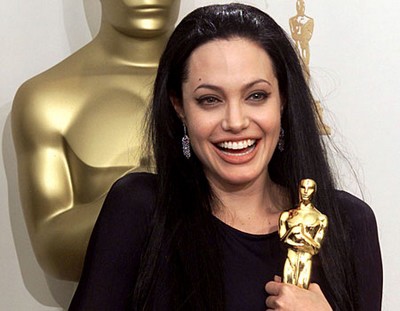 In 2000, Jolie appeared in her first summer blockbuster, Gone In 60 Seconds, in which she played Sarah "Sway" Wayland, the ex-girlfriend of car thief Nicolas Cage.
Angelina Jolie from 2001 to 2014