Just like the brides and bridesmaid, the little flower girls deserve to look cute at weddings, too. The hairstyles listed below suit girls right from kiddies to young ladies. Read on below to know how to flaunt Flowers in your hair updo, next time you are out to attend a wedding ceremony or some fun girl's day out.
1. Long Bob with Flower hair band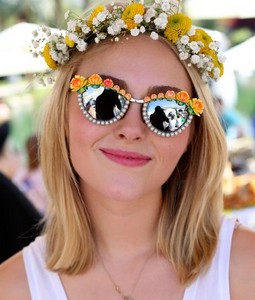 This kind of a hair do looks best during day as it is neat, non messy yet quite vibrant. Anyone with straight and shiny hair can go for this look. Though, those with shoulder length hair or a blunt bob look the best in this flower adorned hair style.You can get this hair band made out of fresh flowers or even faux ones, as per your choice. It looks pretty cool in summers as all the hair are practically, swept away from your forehead thus, keeping your forehead area acne free. It is a very sophisticated and polished hairstyle and can be done by anyone right from a little girl to women in their 50's because of it's versatility and elegance. With this hair style, your streaked hair looks awesome. To add a little more volume to your hair, you might use a text rising spray.
2. Wavy bob with floral Tiara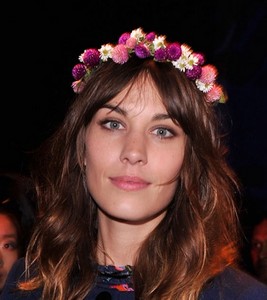 If you choose to couple a wavy bob with Flowers, use a Floral tiara instead of a typical hair band so that the hair do partially cover your forehead from both the sides or you can even go for a side fringe. If you have naturally wavy hair…Great!! If not, use a curler on low heat with some hairstyle spray to form light beachy waves. Again ombre coloured as well as streaked hair look awesome in this hair style.
This hairstyle works well for those who have oblong face cut and for those who have an angled jaw line and want to draw attention away from it. Hair length longer than the chin and a slightly messy, unkempt look would do the trick for you.
3. Half up half down hairstyle with beach waves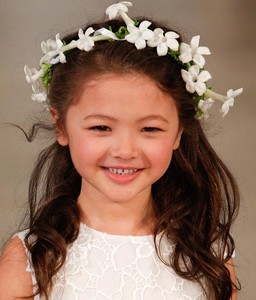 This kind of hair updo looks pretty awesome on those with round faces and chubby cheeks. On one side, the hair have simply been side swept with a hairbrush and on the other half, a little back combing with a medium height puff gives the required volume to your hair. Freshly picked flowers and Olive Green leaves add an extra dose of cuteness to this hair style. The flowers can be arranged on a sleek Black coloured hairband or with help of small hair pins. Once you are done, spray a finishing hair spray to hold everything in its place.
4. Messy High bun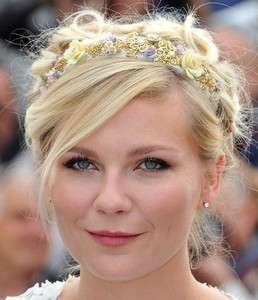 A floral arrangement in small and delicate flowers to separate the messy high bun and the front fringe looks too cute. Those with medium to good length hair can go for this hairstyle to look utterly elegant at wedding ceremonies and other social gatherings. Use a styling comb to separate out the hair for your front, side swept fringe. The rest of the hair can then be tied in a ponytail and then into a messy bun. Add the flowers; spray everything to hold up this ethereal looking hairstyle.
5. Side pony tail with flowers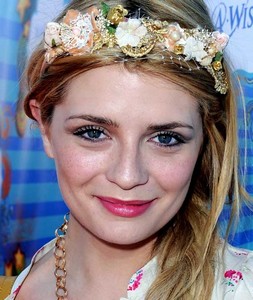 This hairstyle looks the best on those with naturally straight or rebounded hair. A deep side parting with a ponytail tied up on one side looks very elegant. You can either add flowers in form of a ponytail or add a small bunch on the top of pony, right where you put on the hair tie.
6. Twisted hair knot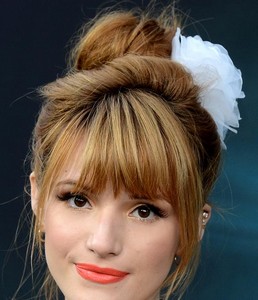 This looks perfect on oval faces. Try out this front, messy looking, blunt bangs with a simple high bun and a twisted knot of hair going around the bun. The entire look comes together to appear really cute. Add a big flower or floral accessory just adjacent to the bun. Make you choose simple, stud earrings to go with this hair updo for a stylish and chic look.
7. A curly low bun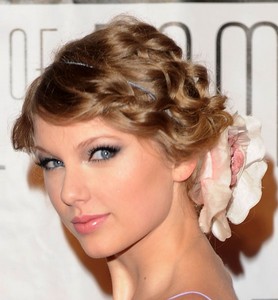 You simply need to curl up your hair using a curling Iron or a blow dryer and styling brush. Spray a texturising spray to maintain the curls and then tie up the wavy hair in a neat looking low bun. A single, big flower accessory at the bun looks very elegant. This so easy, it can even be done at home with a little practice.
8. Braided half updo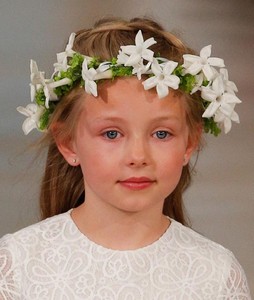 A braid running from one side of the head to the other with the hair at back flowing loose will give you an appearance of effortless styling. The braid ensures that there are no loose strands of hair to irritate you. This hairstyle looks perfect on Round faces. Add a floral crown for a classy, ethereal look.
9. Messy long hair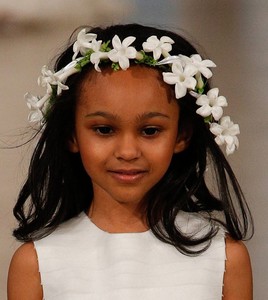 For this updo, use a garland of flowers to sweep the front hair away from the forehead. The hair at the back are left untied. Those who have long hair can use a curling Iron to form soft curls at the bottom half of the hair.
10. Braided Crown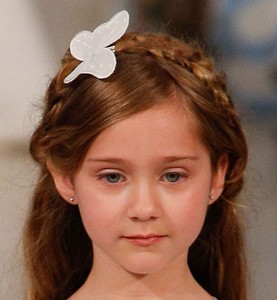 Use a thick band of hair to tie a braid across the crown. Add a single flower for elegance. A centre of side parting looks cool with this hair style.
So, there you have our list of top ten hair styles for the wedding season. These chic hairstyles ensure your little one looks pretty as a flower girl and stays comfortable with her hair throughout the ceremony.
10 Amazing Flower Girl Hairstyles
Long Bob with Flower hair band
Wavy bob with floral Tiara
Half up half down hairstyle with beach waves
Messy High bun
Side pony tail with flowers
Twisted hair knot
A curly low bun
Braided half updo
Messy long hair
Braided Crown