Every tree has a story of its own. But do we really get past human to look and see their story. These mute creatures become witness to a many great deals. Yet, they keep it humble with their silence. From wars, evolution, invention, discoveries, victories; these tress witness every human event and emotion. Let us take a look into the lives of 10 such popular trees that have made a name for themselves through their story.
10 Most Popular Trees Around The World
10. Tree of Knowledge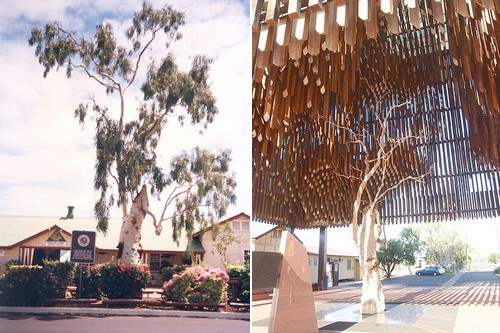 A Corymbia aparrerinja ghost gum and located in Barcaldine, Queensland, Australia, 'Tree of Knowledge' is regarded as the birthplace of the Australian Labor Party (ALP).  In 1891, a group of protesting sheep shearers founded the Australian Labor Party under the tree. Also in 1892, at the foot of the tree, the Manifesto of the Queensland Labour Party, a foundation document of the Australian Labor Party, was read out. As an act of vandalism, the tree was poisoned with glyphosate (a main ingredient in the herbicide Round Up) in 2006, with it being declared dead on 3rd October, 2006. It was 200 years old at the time of its death. On April 19, 2011Prime Minister Julia Gillard joined ACT Chief Minister Jon Stanhope at the National Arboretum Canberra in a ceremonial planting of a tree grown from an original cutting of the 'Tree of Knowledge.
9. Árbol del Tule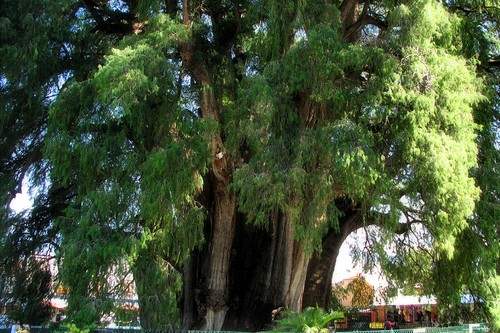 The ninth position holder in this list has also the proud distinction of being the stoutest tree in the world. Located in Santa María del Tule in the Mexican state of Oaxaca in Mexico, its trunk had a circumference of 42.0 m equating to a diameter of 14.05 m. Its distinction of owning the stoutest trunk in the world has even made the UNESCO list it as a World's Heritage Site. It is estimated to be around 1,433-1,600 years. Because of the animal image visible in tits gnarled trunk, it is also referred to as the 'Tree of Life'.
8. El Grande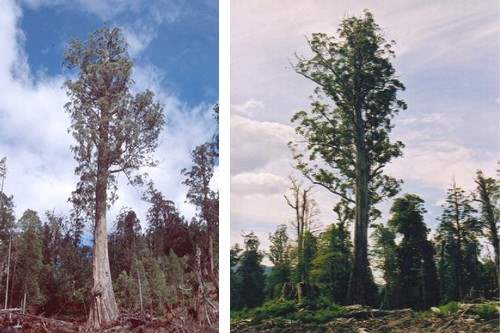 Located in in Tasmania, Australia, El Grande was not only the largest tree of Australia in terms of volume, but it was also the world's biggest flowering plant. It had a height of 79 metres. It was burned in April, 2003 and died 8 months later in December, 2003. At the time of its death, it was approximately 350 years old. Its death gained widespread national and international media coverage and started campaigns against logging, especially the Wilderness Society's campaign.
7. Boyington Oak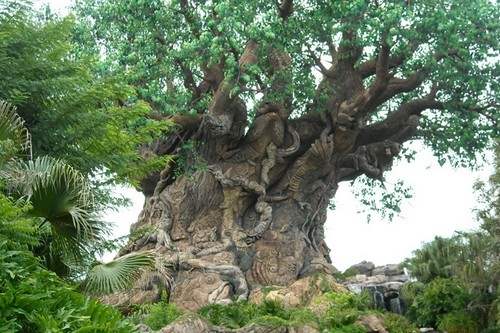 At number 7 on our list of most Popular Trees around the world, comes the Boyinton Oak, located in Alabama, USA. A southern live Oak, Boyington Oak's story is quite remarkable. It grew from the grave of Charles Boyington who was tried and executed for the murder of his friend, Nathaniel Frost, on February 20, 1835. He stated that a tree would spring from his grave as proof of his innocence. And the rest was history. A story so hilling that it still gets to everyone who hears it.
6. Arbre du Ténéré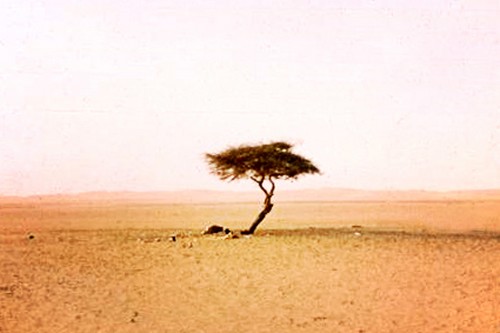 At number 6 in our list of Popular Trees comes Arbre du Ténéré. It has been called as the most isolated tree on Earth. Considered as a landmark, it was located in the Ténéré region of the Sahara Desert in northeast Niger, it does not have another tree for over 400 km. It had a well for its water source, which was 40 metre deep. The tree stood there for decades until 1973, when a drunk truck driver knocked the tree over. Seeing it as a cultural symbol, the knocked down tree was moved to the Niger National Museum in the capital Niamey. In the place of the tree, a simple metal structure has been erected as a tribute to the tree.
See Also; World's Most Beautiful Trees Photography.
5. The Great Banyan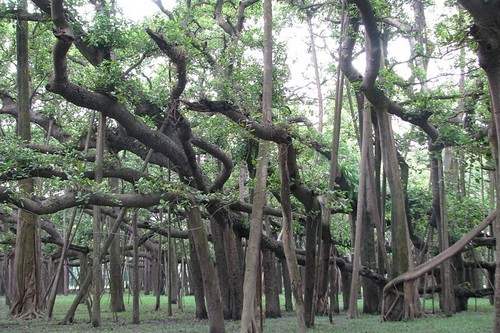 The Great Banyan comes at No.5 amongst most Popular Trees. Considered to be more than 1200 years old, it is located in Acharya Jagadish Chandra Bose Indian Botanic Garden, Howrah, near Kolkata, India. In terms of the area of its canopy, it is the widest tree in the world. After it was struck by lightning, the tree became diseased, In order to keep the tree healthy, the middle of the tree was excised in 1925. Therefore, it has now become as a clonal colony, rather than a single tree. Presently, its crown has a circumference of more than half a kilometre.
4. Boab Prison Tree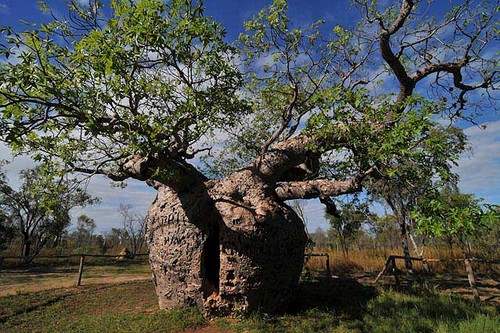 This refers to two Boab trees, both located in Western Australia – one in Derby and another in Wyndham. Both trees were used as prison for Aboriginal prisoners in the 1890s. The holes in the upper branches indicated that the tree was hollow and so cut an opening into the tree to make it like a prison. Reports indicate that the Wyndham tree has accommodated 30 prisoners at one time. Both the trees have now become a cultural symbol of atrocities, with tourists visiting it in huge numbers.
3. Prometheus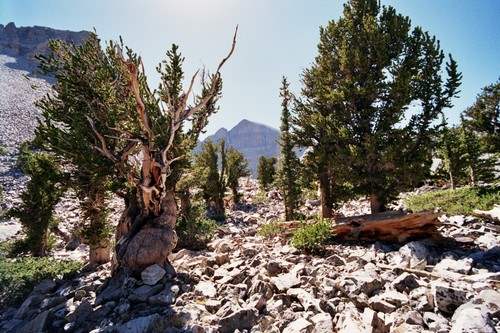 At number 3 amongst the most Popular Trees, is the oldest known non-clonal organism – Prometheus. A Great Basin Bristlecone Pine (Pinus longaeva) tree growing near the tree line on Wheeler Peak in eastern Nevada, United States, Prometheus was at least 4862 years old. It was cut down in 1964 by a graduate student and United States Forest Service personnel for research purposes. Although at the time of cutting the tree, its age was not known to those who cut it, it was criticised by marine biologist all over world.
2. The Bodhi Tree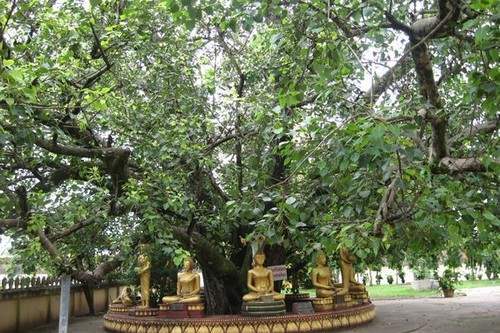 Located in Bodh Gaya, India, The Bodhi Tree is a Sacred Fig tree, which is probably one of the most Popular Trees around the world as this was the tree under which Siddharta Gautam Buddha achieved his enlightenment, or Bodhi. It is recognised for its heart shaped leaves. Due to the enlightenment, it has become a sacred Buddhist symbol and a Sacred Fig tree is planted near every Buddhist monastery.
1. Survivor Tree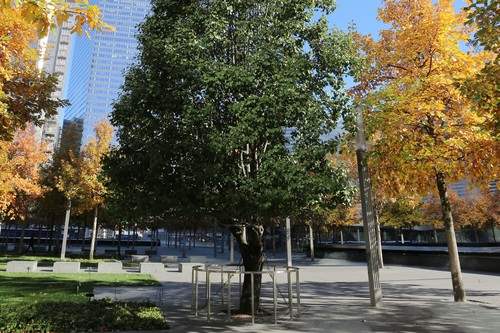 Survivor Tree comes at No.1 amongst most Popular Trees. This can refer to two trees in USA – one located in New York City which survived the September 11 attacks on the World Trade Center in 2001 and another located in Oklahoma City, which survived the terrorist bombing in Oklahoma City on April 19, 1995. The former is a Callery Pear, while the latter is an American Elm. Both the trees have been incorporated in National September 11 Memorial & Museum and  Oklahoma City National Memorial respectively. In a world of terror and hatred, they have become a symbol of faith and survival will-power.