Who doesn't know Lindsay Lohan, the phenomenal face for Mean Girls? The ultimate success of Mean Girls is known to be only because of Lindsay Lohan – the most beautiful lady. Mean Girls turned out to be the iconic hit for her making her famous worldwide all over again.
Lohan who was born July 2, 1986 is an American actress recording actress. She's one of the lucky stars who got to start their carrier in early childhood as child stars. Barely at the age of 3 she participated in fashion industry and became a child fashion model. Though her major breakthrough was in 1998 in the remake of The Parent Trap. This led her to ride a pretty smooth road of both fame and carrier as she was assigned in major roles in Freaky Friday and Mean Girls. This smooth road, however, could not stay as smooth as her fans were hoping for.
Soon after the limelight Lindsay got troubles with so many things from media, paparazzi to her two driving scandals she lost the life time glory. Above her basic known life, we have some obscure facts of her life for her fans. Have a glance for yourself – The Most Interesting Facts About Lindsay Lohan.
Most Interesting Facts About Lindsay Lohan:
One sided romance with violating the law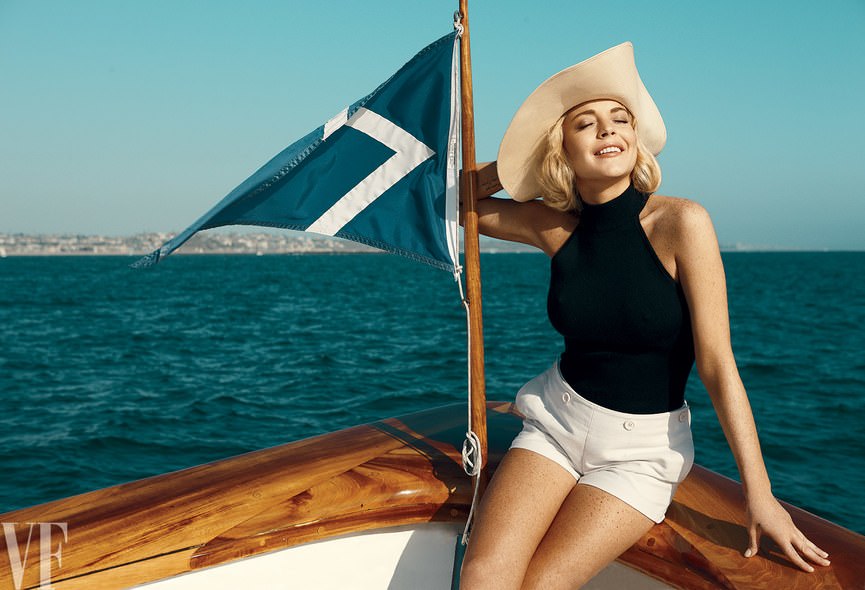 Lindsay seems to have one sided crush on violating the law or at least as it appears to be. Her famous roles did not get popularity as her violation of the law did. 2007 was the most unlucky year of Lindsay's life as she straight 3 troubles with the law for hit and run case. After getting bailed so many times Lindsay got on probation which in 2009 got one year extension for failing the demands.
Alcohol, Drug Addiction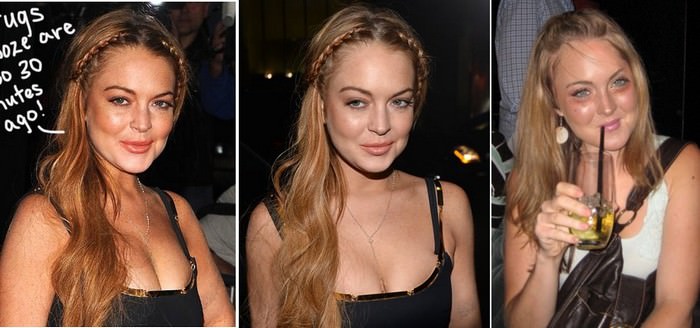 Massive alcohol consumption and drugs taking is what destructed Lindsay's golden years of carrier. It took not only her limelight away but got her jailed several times. From 2009 to 12 she had been jailed a few times for consuming alcohol which always turned out into road accidents. The 2007 road accident reports stated her as being drugged and drunk due to which the accidents took place. She was sent to rehabilitation center each time. For violating the rehabilitating rules and not being keen towards her treatment she was given the punishment of community service.
When Lindsay Lohan got Jailed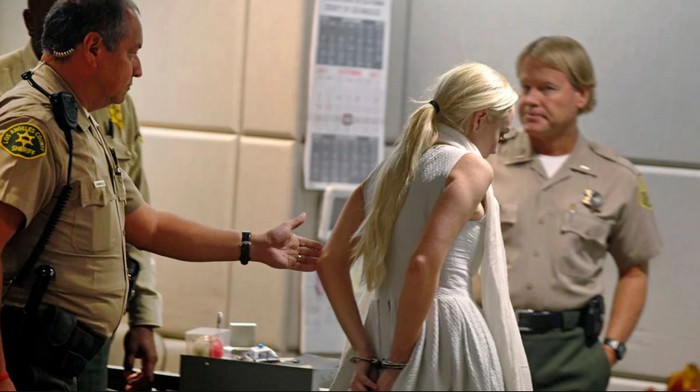 Who could think the innocent face of Mean Girls being jailed? Lindsay, but, did get jailed twice in 2010 and 2011 for 90 and 120 days respectively. (source)
Lindsay Lohan Alleged Necklace Theft
Yes!! You read it right, she was alleged with a necklace theft. Sofia Kaman, the owner of the store, alleged Lindsay for taking a necklace of her store and never returning it again. According to several media reports, a worker at the store told police that Lindsay was found walking off the store wearing one of the earrings without even buying them. On a nice reminder she returned them in a kind manner. But this was something big for which Kaman called the police and held a court trial for the theft of her necklace. Kaman accused Lindsay for trying the necklace for 15 minutes and walking off like that from the store without having it cashed out.
Lindsay's Spiritual Journey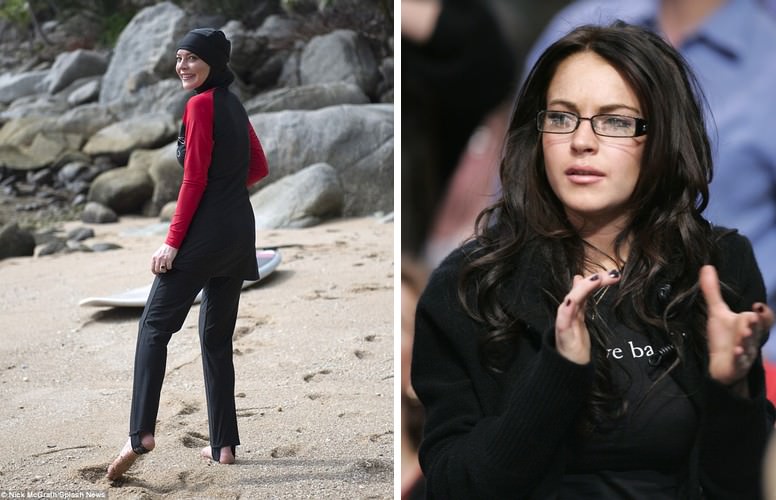 Leading such golden years of her life in messed up hell she disappeared from the entertainment industry for a while. After these incidents she was not offered good movies and her new released movies did not make as she expected. All these factors combined made her go through a journey of remaking herself, a new Lindsay Lohan with clean record.
Lindsay holding The Holy Quran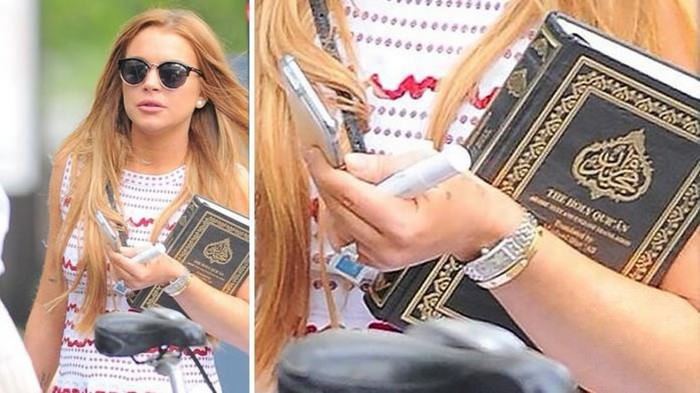 Much after starting to get sophisticated and sober, a new rant was wildly spoken of. This was the new kind of experience her fan following and critics was witnessing for Lindsay was seen holding the Muslim holy book Quran in her hands in London. She sparked a social media bluster. From white extremists to Islamophobes everyone started pinching her psychologically for holding the holy book of Islam while being a Christian. Lindsay, though, fought it well.
Charity/ Human Rights Work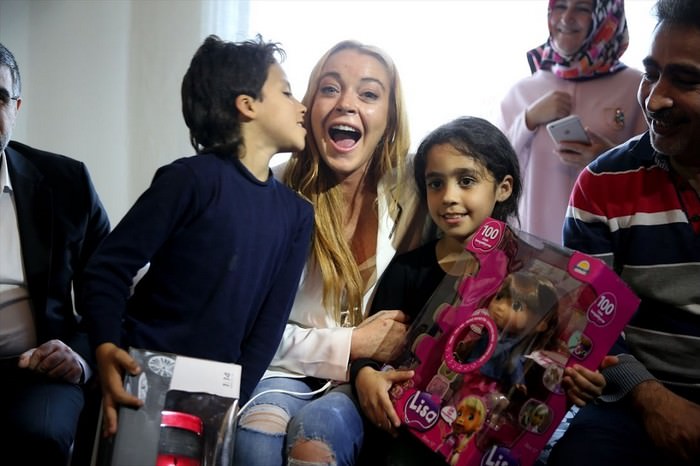 Amidst the humanitarian crisis in Syria, Lindsay took one more daring step of working for human rights in Syria for Syrian refuges in Turkey. She was seen wearing a head scarf and Turkish dress while working for Syrians. It again sparked social media to blow their minds. While the glorious lady did not get scared or step back rather spoke for the Syrian women and appreciated Turkish president Tayyep Erdogan's efforts for human rights.
Wearing Head Scarf in Turkey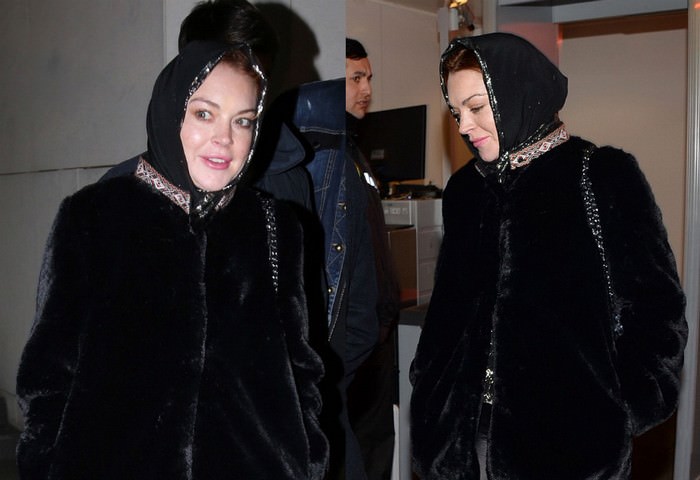 Lindsay was recently found wearing headscarf in Turkey on a business trip. She was found wearing a black head scarf on a dress and thigh-high boots. Her religious life is letting her fans speculate she's converted to Islam.
Deleting of her Pictures and Adding Religious Greetings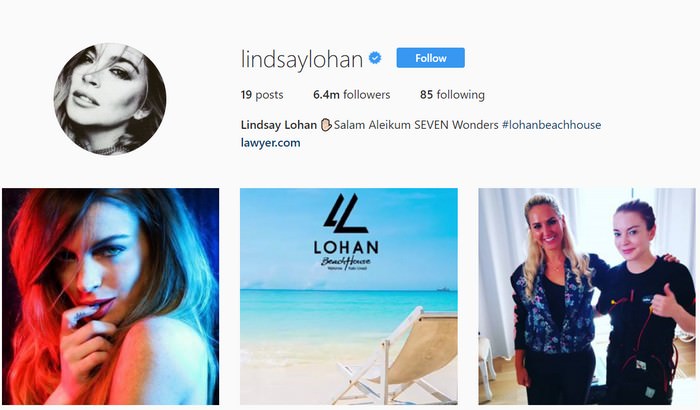 Instagram profile of Ms. Lohan had numerous pictures of herself which she recently deleted all. Moreover, Lindsay added "Salam Alaikum" on her profile which basically means Peace be Upon You in Arabic. This greeting is considered religious in Islam. Leaving her fans in wonder if she really has converted to Islam why does not she simply announce it?
The Mean Girls Sequel!!
Yup, you read it right!! "The Lindsay Lohan age" is returning back to its glories right it started from. The actress is seen to be really excited about the news rather she has been talking to media for how she made Tina Fey, the writer and major role of Mean Girls, to take time to remake the movie sequel all over again. This time, hopefully, will be the lights and not controversy.