It's summertime and time to feel free, unless you are sitting poolside wearing a heavy layer of foundation. Women want to look their best during the summer season. It's prime time to show some skin and have a little fun. However, what are you going to do about makeup? You don't want to show up with blots of blush on your cheeks and lipstick on your teeth.
Let's not jump ahead though. We're not saying we have all the answers, but we just may happen to have all the incredible ideas. Here are 10 incredible ideas for summer makeup that will make your season even better.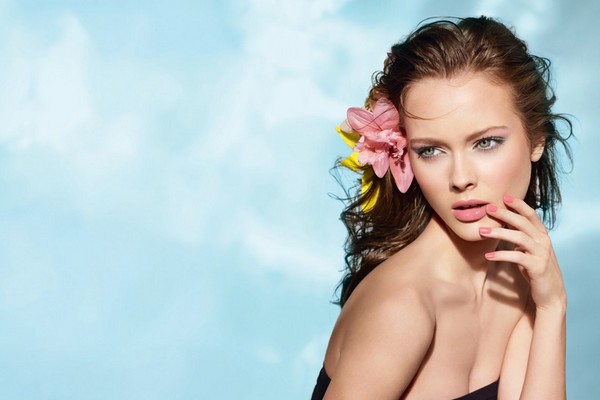 The 10 Incredible Ideas for Summer Makeup:
1. Wear Moisturizer
It gets hot out there. The sun can drain every ounce of moisture you have out of you. It is important to help your skin along, otherwise it will soon look like leather. If you want to add a little color to your life, then try a tinted moisturizer. It is like a bronzer and healer – all in one.
2. S-P-F
Yes, this is about the sun, again. It's great to have a shiny day, but too much exposure can be a bad thing for your skin. Not only can it leave you with an immediate painful sunburn, but it can cause skin cancer down the line. Your moisturizer may even have SPF in it, so you can double up there.
3. Protective Tanning Oil
Women love to sit by the pool or on the beach next to the ocean. However, again, you want to be weary of the sun. That is why you should use a tanning oil that already has sunscreen built into it.
4. Be Colorful
Let your eye makeup and lipstick stand out. You don't have to be afraid of color. Models on the runway would not fit in with the normal wear of the day-to-day crowd, but that does not mean you can't play off their looks. Eyeshadow and lipstick should be used to help each other look better. Pastels are very common during summer, so just avoid being stuck in a rut and be bold.
5. Be Unique
You don't always have to look to the fashion magazine to find out what's going on. Play around with your makeup choices and build your own style. Use eyeliner, eyeshadow, blush, foundation, and powder – if that is what you want. You could also go natural, as sometimes it can be the best look. Whatever you do, be yourself.
6. Wet Your Lips
Lip gloss is a summer necessity, as it gives you a dewy and fresh look. You can use fruity colors like strawberry, peach, and more.
7. Multi Purpose Makeup
It's amazing to see the makeup items on the market today. Companies are making products that not only stand up to the summer heat but are multi purpose too. For instance, it can be fun to use lipstick as blush. A little goes a long way, so you won't need much, just a bit on both cheeks. Additionally, you only have to carry around one item.
8. Mascara Matters
Mascara can highlight one of the prettiest features, eyelashes. Elongating the lashes can make you look more youthful and bright. Make sure your mascara can handle the summer heat. You don't want mascara running down your face, talk about a bad day at the beach.
9. Waterproof Hair
Just like you need to protect your skin and makeup from the sun, you need to protect your hair from sun too. You may want to try a product that waterproofs your hair and using a conditioner that moisturizes the hair will help your scalp and hair not dry out.
10. Do Your Nails
Nothing says "I have it together" more than your nails. For starters, it shows the stress of your life. Are they chewed up? Munched on like popcorn? If yes, then there is your ability to stay clean. Dirty nails are a quick no.
Follow these tips and look radiant all summer.
Author Bio: Alana is a passionate blogger and writer. She is obsessed about beauty and fashion. She enjoys writing about beauty, makeup and latest fashion trends. She also writes for her beauty blog.