Cooking is traditionally entitled to women and is considered to be one of the fundamental qualities and skills associated with womenfolk. But, ironically, like any other profession and business, the cooking world is also dominated by a large number of male chefs; men are found in a vast majority in kitchens as compared to women.
Living in a patriarchal society, it is quite normal to have a large community of men in every career while having them in superior position is something which is socially and traditionally accepted worldwide. It is quite impressive to know that in such a society where women are considered to have lower status than men and are expected to be in subordinate position to men, there are some women that have worked against this socially accepted standard and all for good reasons. Each of the below mentioned women has earned their place in history as a result of their art and significant work in their testosterone-driven gastronomic world.
10 of the History Rendering Female Chefs:
1. Helena Rizzo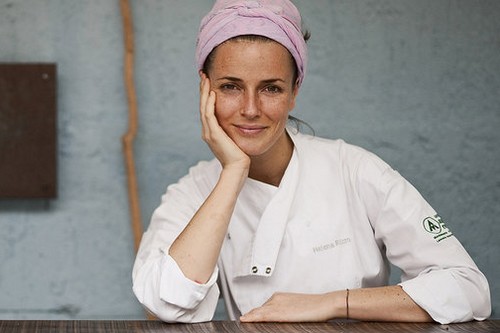 Helena Rizzo is the Brazilian-born chef, the owner and manager of Mani Restaurant opened in 2006 and the current winner of Veuve Clicquot World's Best Female Chef 2014; Helena started her career as a model with a part time work of a chef, which she later takes on as a full time profession. Her spouse, Daniel Redondo, is a Spanish chef and together they have opened the restaurant, their cooking is the authentic combination of Spanish and Brazilian cuisine and they are constantly striving to better their techniques.
Helena's cooking has the blending of traditional Brazilian cooking techniques and ingredients infused with Spanish cooking and modern gastronomic practices. Her signature dish is her interpretation of Brazilian classic Maniocas, baked and served with tucupi froth, coconut milk and white truffle oil. Rizzo is looking forward to publish her cookbook and open her second restaurant in 2014.
2. Elena Arzak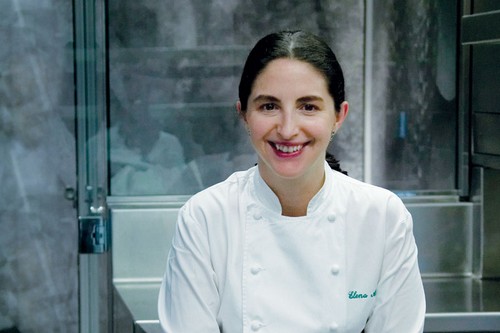 Elena Arzak is the head chef of the Arzak restaurant; Arzak is located in San Sebastian, Spain and is the highest ranking restaurant. Elena manages and runs the restaurant along with her father Juan Mari Arzak and has earned the restaurant an impressing reputation; talking about her cooking career, Elena states that she has started working in the Arzak kitchen at a very tender age, which has contributed a lot to her cooking artistry.
Elena also articulates that her success is credited to the support of her family as she has come from a matriarchal household where females are encouraged to progress and are given equal chances of development. Likewise she adds that being a chef is a usual ritual in her family and society as nearly each of the woman is a chef in her family. The dishes that made Elena Arzak famous include Green Monkfish Sorceress and The Big Truffle.
3. Lanshu Chen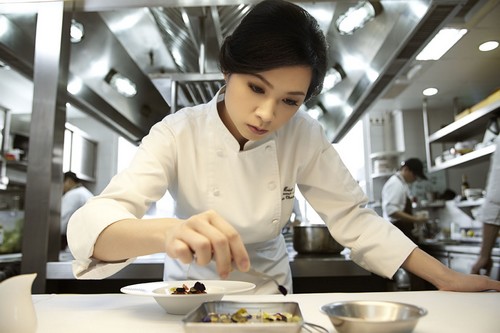 Lanshu Chen is the Taiwan based chef and the winner of The Veuve Clicquot Asia's Best Female Chef 2014 award. She is the head chef at Le Mout Restaurant Taiwan and is trained in French cuisine; Lanshu Chen has her gastronomic training from the famous Ferrandi School of Culinary Arts in Paris and the art of pastry from Le Cordon Bleu. She has worked with a number of culinary geniuses and a good amount of famous hotels.
Trained in French cuisine, Lanshu has a passion for 'Haute French' and is obsessed with the idea of creating authentic dishes with the amalgamation of French and her hometown, Taiwanese, ingredients. Her signature dishes include a large number of French and Taiwan infused food as she endeavours to find the perfect balance of salty, sweet, bitter and sour flavours attained from the merging of both French and Taiwanese ingredients.
4. Clare Smyth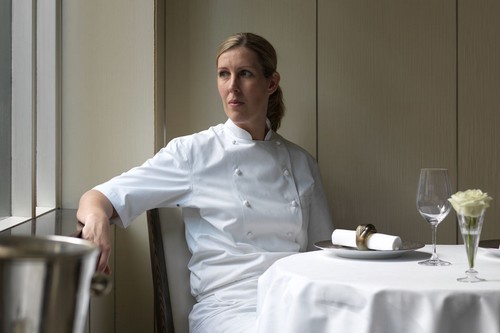 Clare Smith is the chef patron at Restaurant Gordon Ramsay and currently holds the position of being the only female chef in Britain to have three Michelin stars and one of the six women chefs globally to have the prestigious accolade.
Smith's journey of being a chef started at the age of fifteen when she worked as a chef in her summer job, subsequently there was no looking back. She moved to England to study catering, she has worked at Terrance Conran's Bibendum, as a sous chef at the St. Enodoc Hotel, Per Se in New York, The French Laundry and the Kitchen of Alain Ducass at the Louis XV. While talking to Dailymail.Uk Clare Smith has shared her passion and experience of working as a chef, and THE ONLY female chef in the kitchen for a long time, in the restaurant.
She states that being a woman had exerted extra pressure on her as she was not ready to let people think of her as a weakling because she was a woman. She worked harder each time she stepped in the kitchen and did not allow herself to be tired, have bad days or back off from any task. Today she is known for maintaining of unrelenting quality standards in her kitchen, some of her famous dishes include spiced duck breast with creamed Savoy cabbage and roasted apples and Brill baked in seaweed with clams, fennel and coco beans.
5. Elizabeth Falkner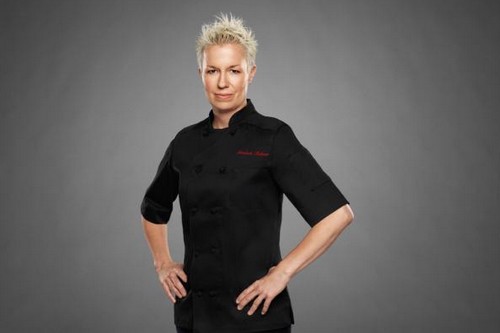 Elizabeth Falkner graduated from the San Francisco Art Institute and was destined to pursue her career in filmmaking and it was at Cafe Claude that she recognised her potential and fervour for being a chef. Falkner worked under Julian Serrano at Maso and has earned the reputation of being one of the most experimental and inventive pastry chefs.
Often recognized for her tomboyish spikes, Elizabeth Falkner is known for her exceedingly unconventional deserts made with the most unusual ingredients like aniseeds and pepper. She opened her own pastry shop in 1997, Citizen Cake, and her restaurant Orson in 2008, both of which were incredibly successful ventures. Falkner works towards challenging the boundaries between sweet and savoury cuisine, which has lead her into coming up with exclusive dessert ideas and winning some of the prestigious awards.
Falkner is also famous for her sugar art, her sugar ribbons, roses, cages, balls and sweet, hard and soft meringues are some of her signature creations; she has made cakes for celebrities like Mohammad Ali and Sharon Stone.
6. Catherine Ann "Cat" Cora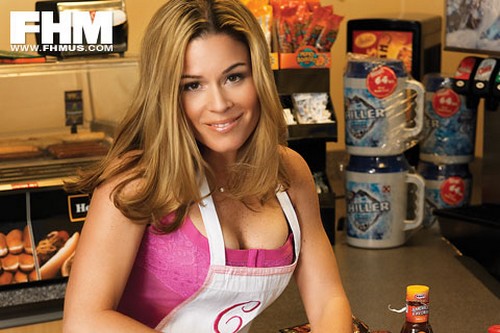 Known as the very first female chef to appear on 'Iron Chef America', Cat Cora has earned the fame by being the only woman chef, till now, ever featured as an Iron Chef in the franchise history of the show. Cora holds Bachelor's in Exercise Physiology and Biology and acquired her culinary training from the Culinary Institute of America and is the executive chef of Bon Appetit magazine.
Cat Cora has worked and apprenticed with some of the culinary geniuses of the industry; Chef Anne Rozenweig at Arcadia, Chef Larry Forgione of An American Place, Chef Melissa Kelly and two French three star Michelin chefs, George Blanc of Vonnas and Roger Verge. Besides working under these names Cat Cora has worked at a number of places that furthermore sharpen her culinary skills. She is the founding President of the Chefs for Humanity organisation working towards food and education related issues and has joined First Lady Michelle Obama's campaign of Chefs Move to Schools to give nutritional guidance.
Cat Cora opened restaurants at Macy's South Coast Place, Houston's airports, Walt Disney World and the Ocean Restaurant in Singapore, which is the very first to have built inside the S.E.A aquarium. Cora's signature dishes include smoked eel on sunchoke jelly and shaved duck liver terrine and 42 degree centigrade sous vide salmon.
7. Cristeta Comerford
Cristeta Comerford is the very first woman White House executive chef and the very first belonging to a minority group. Comeford is a Filipino-American professional chef majoring in food technology at the time of immigration due to which she was not able to complete her degree program. Cristeta Comerford started working as a chef at Chicago's Sheraton and Hyatt Regency restaurants, Le Grande Bistro, Westin Hotel and at Le Ciel as a revolving chef.
Later in 1995, she was appointed as an assistant chef by the then White House executive chef Walter Scheib and was elevated to the executive chef position by the First Lady Laura Bush. Comerford has participated in special two hours 'Iron Chef America' episode, teaming up with Bobby Flay and conquered Emeril Lagasse and Mario Batali.
8. Alice Waters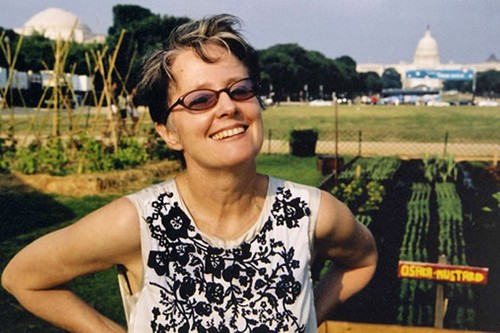 Alice Waters is the pioneer of the 'American cuisine' and supporter of food made from locally available organic products and ingredients. Waters graduated with French cultural studies from Berkeley and trained as a chef from the International Montessori School and learnt French cooking techniques from France.
From the very beginning, Alice Waters was a staunch believer of preparing food from fresh ingredients coming directly from the farm to the plate; she opened her legendry restaurant Chez Panisse, which is dedicated to her idea of food to the present date. Besides playing a fundamental role in bringing fresh products to the American plate, Waters hold an industrious position in exerting positive influence on the agricultural economy of her community. She buys fresh products grown and sold by local producers and retailers; apart from this, Alice Waters has initiated the very first 'Edible Schoolyard Project' at Martin Luther King Jr. Middle School.
The aim of the project was to guide the students in growing their own vegetables and fruits and enlightening them about their importance. Moreover, they learnt cooking them in a nearby classroom, which served as a kitchen for the purpose. Furthermore, Alice Waters has founded the 'Chez Panisse Foundation' to fund additional schoolyard gardens and established the 'School Lunch Initiative' and 'Garden Project' programs alongside 'Slow Food International' to support and sustain the local food traditions.
9. April Bloomfield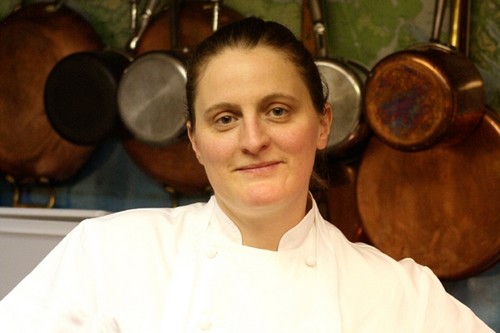 April Bloomfield is a professional British chef; initially Bloomfield wanted to join police force but she missed out on the police cadet scheme, later she joined a catering school along with her sister and there she recognised her chef potential. Bloomfield has studied at the Birmingham College of Food, Tourism and Creative Studies and has worked at a number of places to familiarise herself with different cooking practices and hone her culinary skills.
April Bloomfield has some impressive names on her portfolio, which have contributed to her cooking style; she has worked at Kensington Place, Bibendum, River Cafe, one Michelin star restaurant Roscoff and the worldwide famous Chez Panisse to acquaint with the American ingredients and gastronomy. She opened her own restaurant with the name of The Spotted Pig, at the first place; the restaurant was not aimed at making any big appearance or name but was a small casual restaurant. Surprisingly enough, the restaurant earned a Michelin star the very first time New York restaurants were considered for the honour.
She opened her second restaurant, The Breslin Bar &Dining Room, in partnership with Ken Friedman, which won a Michelin star too. April Bloomfield defines her cooking to be 'earthy, clean and vibrant' and bequeaths her cooking style to the River Cafe restaurant and Ruth Rogers and late Rose Gray. Bloomfield uses simple ingredients in her dishes, which, she states, needs even higher level of expertise as there will be no spices and sauces to cover for your tiniest mistake.
10. Nadia Santini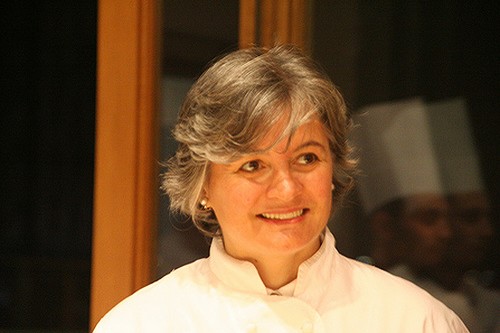 Nadia Santini is the winner of the Best Female Chef award 2013 at the World's 50 Best Restuarants; Santini is not officially trained as a chef, which makes her even more praiseworthy. She is married to a restaurateur family, which owns a three Michelin-stared Del Pescotore restaurant and Santini serves their as a head chef. Nadia Santini learnt coking from her husband's grandmother, Teresa, who was in Santini's place the time she married into the family.
The Del Pescotore restaurant is known for its serving of authentic Italian dishes but with a modern and contemporary touch; the family describes their dishes to be drawn from original family recipes and are up-to-dated according to the present day needs. Nadia Santini's gastronomic expertise and creativity has preserved and heightened the family bistro's name and reputation; Santini is Italy's very first female chef to earn three Michelin stars, which makes her a member of a very small elite group of female chefs to have attained the honour. Santini's signature dishes include pumpkin parcels, chargrilled eel, herb omelette, parmesan and mostarda.